Viewing Post for: Kilimanjaro Climb 2014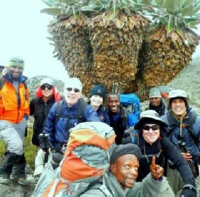 Date: Friday, January 24, AUDIO POST
Location: Barronco Camp. 12,900 feet.
Here is an audio post from the gang. Download or listen:
---
Messages for this post
For: K-Dawg and Maggie
Sounds like you guys are having an awesome time! I'm looking forward to seeing pictures and hearing stories!!!!!!
---
Joseph - 1/25/2014
For: Dave
So nice to hear your voice and see you in the picture! Glad to know you are having a great time!
---
Jennifer - 1/24/2014
For: Harry, Dave & Charlie and all
How exciting to hear your voice from so far away, Dave! Sounding great! Sounds like part of the adventure is learning about African culture and the wonderful local people who are on your team. They want you to be as successful as you do. But you all are a success just for being there and getting to this point. Hope you get out early to be in front of the line for the Wall; you've done more difficult climbs in the Adirondacks. Looking forward to tomorrow's picture!
---
Marianne & Dan - 1/24/2014
For: Harry and all
what an exciting time and adventure for you all ! all the best to you all !
---
Barb - 1/24/2014
For: Harry
Harry, Congratulations! What an experience you must be having. Good luck the rest of the way. Tim and Ann from tys, llp Fairport
---
your friends at TYS - 1/24/2014
For: Rick
Yeah baby, Getting closer all the time...I was sick last nite and it reminded me of Kili and the first time we got sick together....except I just stayed in my bed and slept instead of hiking....so glad you are giving people their first time of KILI. You have been and important part of my firsts as well, from biking to hiking...Jambo and be healthy!!!!!
---
Your bro - 1/24/2014
No more comments are allowed at this time.