Viewing Post for: Kilimanjaro Climb 2014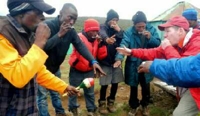 Date: Thursday, January 23
Location: Moira camp. 13,400
Sunny, then cloudy, night 25 degrees, day 40 to 55 degrees Notes to the studio audience. Paul G, Hemed says hi and is extremely grateful. He is here with us. To Charlie's frat bros. "I versed out with The True Gentleman today" for their reflection. As indicated in the pic, we have quite the band. Charlie handed out 12 harmonicas, rattles and other instruments. We got to camp and danced and sang with the African crew. Instruments going, clapping, twirling, general craziness. Awoke to our first clear view of our goddess, madam Kili. She hid again as the day went on. All are still well. Except some wind issues. Landscape changed to high desert, translate to this is crazy exotic lunar looking. Tomorrow objective, the high altitude test of 15,00 feet. Good luck.
---
Messages for this post
For: Ranger
Writing from Hope Town, Bahamas! I can almost hear that harmonica jam session here. While listening to the steel drums tonight, I will raise a glass of rum to all of your new found musicians.
---
Smiler - 1/24/2014
For: Harry
You are among a limited few in the world to experience adventure to this degree! I can't help smiling as I read the descriptions of what you and the group are experiencing daily. I look forward to see your next speaking engagement with all the new slides from this trip!!
---
Bill Schultz - 1/24/2014
For: Ranger
We could not be more proud of you! Phi Alpha! Thanks to all for the great posts and best of luck tomorrow!
---
JD - 1/23/2014
For: Harry, Dave, Charlie and the whole team, too
Sounds like you are headed to Lava Tower tomorrow - keep your hats on and cameras ready. Lots of trails to be seen in the distance, all converging. We are expecting a great slide show when you return. Stay strong (save all that hot air for climbing). And mostly, POLE POLE
---
Marianne & Dan - 1/23/2014
For: Harry
We are rooting for you and praying for your safety and enjoyment!! Thank you for sharing your experience with us.
---
HF&C Bond team - 1/23/2014
For: Charlie
All is well at the office. I'm so glad that you are all doing well and having a great time too. Best of luck as you continue on.
---
Kim - 1/23/2014
For: Kevin and Maggie
K-Dawg/Maggster We are reading your posts daily Sounds like a tremendous experience Hope all the best
---
John and Monica - 1/23/2014
For: Charlie and Harry
Harmonicas, rattles and dancing, OH MY!! Sounds like you are all having the best of times.
---
Sue Amo - 1/23/2014
For: Harry
We are all watching your stories and progress with great interest and excitement, best wishes on a safe and successful summit. Andy
---
FNRM Friends - 1/23/2014
For: Rick
Enjoy! I remember your 1st summit! I was supposed to be there. It was your Birthday on February 9th 2000. Now my daughter Naomi's birthday - the reason I wasn't on the trip. She still has the teeny tiny bracelet my mom got her in the village. I hope everyone is successful on their summit attempt. My stepfather Brian always wanted to try again since he wasn't able to make it due to altitude. Best wishes!
---
Jen - 1/23/2014
For: Ricky & gang.
Peace & joy to all of you. Enjoy every moment. Always great to relive the experience. The best is yet to come. Drink enough and be safe. Jambo.
---
kevin mudflaps - 1/23/2014
For: Harry Charlie and Dave and all
Sounds like you are having a blast! Hope altitude goes well tomorrow ! Just flurries today!
---
Shannon - 1/23/2014
No more comments are allowed at this time.