Viewing Post for: Everest Base Camp 2013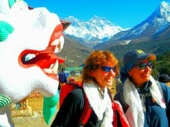 Date: November 18, Monday
Location: Almost to Khumgung, 12,300
Sunny, lovely, 60 day, 25 at night

We had a really special opportunity to go to the Tenboche Monastery with the monks praying and chanting. We got a cata, scarf, and got a blessing from the head Lama amidst the chanting, incense, cymbals, drums, and horn blowing. Special and exotic experience.

Tonight we stay at Kami's house. 400 year old house. He has an amazing temple filled with ancient scrolls, Buddhist prayer wheels, his wall is lined with historic brass pots. Tomorrow we will post a pic.

The hike today was 2000 feet down to cross the river and then back up. Nice to be at lower altitude.

Tom, Damaroo, and Ed are together and heading to Lukla. They will get there on Tuesday one day ahead of us. They are healthy and doing well.
---
Messages for this post
For: soha
nice to read that u all have come down safe and sound. u r coming from dream heaven to reality earth. welcome earth. happy to hear that other 3 r doing good too. good experience to to monastry and blessing with chanting. unique experience. be safe and hello to all if i do not write again then rest of the people have a safe journey home. woth love mom
---
mom - 11/19/2013
For: Kemily
Wow- Sounds like an incredible day!! Speaking of days...only 6 more until you return!!
---
Joby & Lou - 11/18/2013
For: Kemily
Hi you two crazy kids :) Almost over - You two are amazing (as is everyone on your adventure) Wish I was going to be in Rochester when you return to hear all about it first hand. Love and hugs from Minnesota !
---
Auntie D - 11/18/2013
For: Melissa
Hi Mom! It was 70 degrees here today! I miss the cold! I haven't even really gotten to wear my new jacket yet. I asked Mike if he wanted me to cook something special or if he wanted to go out, he decided he wanted dinner at Micastias! Our new student did very well today. We'll see how ti goes when he comes back on Wednesday. Very quiet and very polite. The Monastery sounds like an amazing experience! I can't wait to hear about it! In 6 more days! Love you and miss you!
---
Kassi - 11/18/2013
For: Becky Terry
I can imagine 60 degrees feels so good to you . Would love to join in The chanting, drumming , etc. Becky, looks like you in the photo, love
---
Linda - 11/18/2013
For: Lise
Garret wishes he were there to visit the monastery with you and so do I. It sounds like things are a bit easier now that you are at a lower altitude. Today was almost 60 degrees which felt odd after several days of cold weather. Not much else is new here. For once I am excited for Thanksgiving, it will be great to have you back and for all of us to be together. Love you!!!! Bianca
---
Bianca - 11/18/2013
For: Soha and Team
Good to hear the progress. Seems nice weather. Stay healthy. It is nice you all got the blessings and be part of Monks chanting. Take care. Ruchi had heard from Damaroo so we received update and happy to hear they all are doing well. Here and in India (Jyoti, Gambhu) all doing well.
---
Gita - 11/18/2013
For: Rick
Rick - so awesome!!! Wish I could have joined you. Sounds like it is really hard though. Remember my little breakdown in Alaska trying to cram everything into my kayak one morning? LOL! Anyway thinking of all of you and looking forward to photos! Hugs! Jen
---
Jen Bennett - 11/18/2013
For: All
Happy to read today's update and cultural experiences seems like in no time y'all will be down to earth from "heaven on earth" experience. Best wishes for remaining days of trip
---
Mayank - 11/18/2013
For: soha and damaroo
Hope you are enjoying the experiences and the lower altitude. Be safe, take lots of pic and Congrats - another awesome adventure to remember.
---
Ginny - 11/18/2013
For: Kemily
What a great adventure. Did you two get a honeymoon blessing from the monks? Aok at home. Q sleeping by your bed by day and with us by night. Inspected the shop - looks fine. Looking forward to seeing you soon. Love and hugs
---
D. Duck - 11/18/2013
No more comments are allowed at this time.