Viewing Post for: Everest Base Camp 2013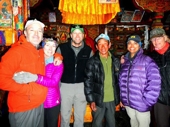 Date: November 19, Tuesday.
Location: Namche for lunch. Monjo for sleeping for the night.
We started the day by visiting the local gompa or monastery. Very old. The highlight was when they unlocked the cabinet and we saw a Yeti skull!

Next we visited Kami's 400 year old house compete with his temple ( in the picture). His house is very traditional ad his family has lived there for hundreds of years.

Now we go down, down down.

Thanks for the info on the football, games. Only news we are getting here is about the national elections. Interesting as people line up to vote on paper ballots and all transportation is grounded for the day. Does not effect us.
---
Messages for this post
For: Lise
Hope you are feeling better and are in a little warmer weather. Saw your photo and you look great. We're heading to NC for Thanksgiving but will be in touch. Vince was here last night for dinner. Can't wait til it's the four of us again xxxxx
---
Marilyn and Charlie - 11/20/2013
For: melissa
Melissa, Hope you are feeling fine and having a wonderful time. Our big adventure of the day was climbing Bristol in some snow. Not real snow. They have been testing the snow guns. Maybe hike it with you after Thanksgiving!
---
Sara and Charlie - 11/20/2013
For: All
Glad to learn you all are in Lukla and have reunited with others. Have a nice rest and trip tomorrow to Kathmandu
---
Mayank - 11/20/2013
For: Melissa
Hi, Melissa. Hope all is well and that you have a safe trip back down. Judging by the blog entries, I'm guessing you are have quite an amazing adventure. Can't wait to hear all about it and see all the pictures. Stay safe.
---
Peter and Ann - 11/20/2013
For: Soha and Damaroo
We hope you have had a safe and wonderful trip. Looking forward to hearing about your adventure upon your return. I read some of the posts...yes...Bengals struggled in the first Q but came thru...whew! Be safe. We'll see you soon. Sounds like an amazing experience. RSM, JG, RE
---
American Red Cross - 11/20/2013
For: Lise
Hi Mom, Sounds like you are seeing some incredible sights and meeting great people. We are on our way to Columbia with both boys in tow. We had to leave at 6:30am to get into NYC by 9am. Poor doc won't know what hit him when my whole crew walks in! Garret has decided that Bhutan is his favorite sovereign nation because they measure their economy with by the GNH, the gross national happiness. Anyway, enjoy your last few days in Nepal! Love you! -Bianca
---
Bianca - 11/20/2013
For: Soha, Rick and Team
Well, you all are coming near all of us after such a wonderful experience and climb up and down. Looking forward to hear all. Take care.
---
Gita - 11/20/2013
For: Soha
Well since Ruchi told you my sad news (yes the Pats lost aka the game was stolen from them!) to make myself feel better I scored some Monday night football tix for next week! And sounds like you all have had an amazing couple of days. It's crazy that in the land of yetis, yaks and monks you're posting to Facebook! Someone recorded that chants? Can't wait to read more.
---
Sona - 11/19/2013
For: Melissa
Thank you so much for the pen, it is a very thoughtful gift that will be put to good use. My favorite gifts have always been those that are unique and individualistic because something made by hand is the culmination of hard work and effort, in contrast to run of the mill items everyone else owns. Thank you again and I am glad to see that you are on your way back down. Mike
---
Mike - 11/19/2013
For: Melissa
Hi mom! Yeah your working on coming home! I tried to surprise Mike with his birthday gift and Wesley heard me outside and started barking! When I gave him your gift I made him guess and he got it right! How do you and he do it every time!? He loved it! It's so unique! We're off yo Birthday Dinner at Micastia's with Amanda and her boyfriend. Love you and Miss you! 5 more days!!
---
Kassi - 11/19/2013
For: kemily
VERY excited about the 5 day countdown. Am feeling SO much better knowing you are on your way down and home to me.
---
Q - 11/19/2013
For: Soha, Dad, Rick, All
Don't cry baby, WE'RE GOING DOWN! Hope you're still having a ton of fun! Sounds like an amazing experience and like the views are absolutely stunning and beautiful. Congrats on the successful hike and exploration. Hanging in the Himalayas...just your normal November activity? Stay safe, have fun :) Talk soon!
---
Beej - 11/19/2013
For: Soha & Team
Wait, a yeti?! Amazing - have a safe journey downward and I'm sure it will be nice to meet up with Ed, Tom and Dad. Great group picture! Can't wait to see the rest of the pics sister :) Oh - and the pats lost last night, tough game against Carolina..
---
Ruchi - 11/19/2013
For: All
welcome back to real world of texts,phones,e mails, facebook etc etc.. Down down down--must be in a hurry (: not to miss return flight? we are soooooo glad you all are safe and had great experience with nature. Thank you Rick. Also thanks to all your support team from family-sherpas,porters make the trip easy. Have a safe trip to Kathmandu and onward..
---
Mayank - 11/19/2013
No more comments are allowed at this time.