Viewing Post for: Everest Base Camp 2013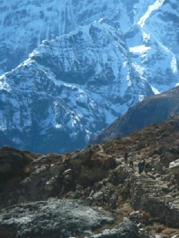 Date: November 10, Sunday
Location: Arria, 14,200 feet
When the sun is out 45. When not, 25 and 15 at night. Getting cold.

Rest day. 3 of us went for a short walk on patches of snow to a yak pasture. We stayed in the tents until the sun warmed them. We take hot water bottles to bed to keep us warm. If it gets colder we will take a yak. Tomorrow is a crux day. Very high, steep, snow, cold. We will try to audio post from the top. We might not get a pic and post up though if we get down to Gokyo too late. It is hard to do post end of day when it is cold. Have to warm up tablet and then warm up other electronics under clothing.

Tom went to join Ed today. We will update end of trip how they did.

On this route almost no one is here. This is the trading route to Tibet but it has been closed for a few years. It is the only part of the trek this quiet.

Signing off as lunch is coming around. Last night Ramson the cook made awesome veggie spring rolls and a pie with chocolate sauce.

Thank you for your posts. We read them around the dung fire every night.
---
Messages for this post
For: Tom - and you all
Oh goodness, I'm trying to keep the image of all those incredible mountains you're seeing in my mind, but the picture of you all shivering in your tents, cuddling a yak in your sleeping bags, keeps breaking in.
---
Liz LaFarge - 11/12/2013
For: melissa
I hope that you are having fun with the yaks. I bet that you wish I was parked by your feet tonight. I can't wait until we can be chasing squirrels at Harriet Hollister real soon.
---
gypsy - 11/11/2013
For: Damroobhai and soha
Hello, Happy new year. We admire you. It seems beautiful and serin. Wish you good luck and safe journey.
---
Bhargavi patel and family - 11/10/2013
For: For DAMAROO and SOHA and Team
Stay warm and safe in tough, hard climbing further and ofcourse enjoy Himalayas great beauty
---
Neki - 11/10/2013
For: Lise
Read today's post. Sounds like things are getting more challenging. The pic is amazing!! It is a gift for all of you to be there even though it must be difficult. We know its getting cold and the air is getting thin, but it sounds like you have great people taking care of you!!! We are thinking of you everyday. Much love to all of you!!! Lise, you are the best!!!
---
Charlie and Marilyn - 11/10/2013
For: Melissa Cohen
Hi all. sounds like you are all ready to trek a tough one..which means frozen pee? I have yet to look into a climb like this but I am looking to go another PPS trip. I really don't like cold weather but I will travel in it. Keepp thinking about a trip to Alaska; I still want to go. so how many calories are you burning in one day? let me know please. I'll sign up if I can shed 40 pounds. stay safe and hydrated. Nihal B.
---
Nihal Burak - 11/10/2013
For: Ed
I missed reading your posts yesterday, so had to go back to see what happened. Like Kathy, I know you're disappointed, but I bet you've handled the altitude better than I would, and how good it is that you have a nifty alternative. We know you'll make the most of it. And we'll be eager to see yr pics and hear all about it. Take care! Soak up those uplifting sights and sounds! Ciao, Mary & Tom
---
Mary - 11/10/2013
For: Damaroo and Soha
As you both go for tough and challenging climb we think of you all and wish all of you safe hike. Hope no storm and severe weather. We had lots of fun with lovely kids and wonderful Heart Walk. With everyone's efforts and support we all walked 3 miles thinking of you all. All are on way to Ohio and Chicago. Be safe. All good here.
---
Gita - 11/10/2013
For: Melissa
Hi Mom! I hope you packed enough stuff to keep you warm! We got out our comfy warm comforter yesterday, because it's getting cold here too. We will be thinking of you on your challenging trek tomorrow! We love you and Miss you!
---
Kassi - 11/10/2013
For: Kemily
What an adventure!! Love the blog/updates! Stay warm, enjoy every minute!! Mari and Steve. xo
---
Mari and Steve - 11/10/2013
For: Becky Terry
Stay warm and strong. Tomorrow sounds so challenging. I am trying to picture a yak snuggled between you two. Will be thinking of your group. Warm hugs!
---
Linda doug - 11/10/2013
For: Kemily
Hi !! STAY WARM - keep up the good work (all of you:) Be safe - Love and Warm Hugs - Love "Q's" post !!
---
Auntie D - 11/10/2013
For: Lise
Hi lise, hang in there. We are sending warm thoughts from monterey, california altbough it 57 but it helps. I hope you can take lots of pics. We will be in n.y. Christmas week & will stop by to see you. To everyone, be warm, safe & happy.
---
Linda & lou - 11/10/2013
For: Lise
Hi Mom, It sounds like things are getting more challenging, not to mention cold. If Harvey were there he would be happy to keep you warm. He has been sneaking into our bed at night...this morning I woke to a giant paw in my face. I wonder if yaks are as desperate for affection. G had wild earth yesterday. When he got home I noticed that the front of his hair was singed. But he assured me, "Don't worry mom, my hair was only on fire for a few seconds." No biggie :) We love you! Stay warm
---
Bianca - 11/10/2013
For: kemily
Well okay, I figure it's not worth it to go back and forth so I'm hunkered down at the bottom of the steps. I think of you as I'm snuggled against your sweats on my pillow. Thanks for the carrots but they're all gone so I hope they get some more. I think of you trekking as I look up the stairs and know the climb is probably the same for both of us. (sigh)
---
Q - 11/10/2013
For: kemily
Talked with Barb yesterday to update them. Looking forward to seeing you at T dinner. Gave her pps website and she said she would look on computer at work. Stay warm, healthy, and happy trekking.
---
mom/mil - 11/10/2013
No more comments are allowed at this time.