Viewing Post for: Everest Base Camp 2013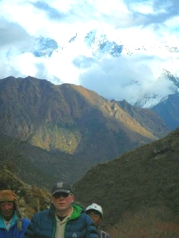 Date: November 9, Saturday
Location: Arria, 14,200 feet
Mostly sunny. 40 degrees in sun, 20 at night.

So today Ed stopped partway here. He is fine but the altitude was sucking his energy and balance. Tom is at this camp but will return to join Ed for the rest of the trip. Tom decided he would rather enjoy visiting the local villages than climbing higher into the thin, very cold air.They have a new itinerary that will include staying at some local sherpa houses. Lhapka, one of our sherpas, and a porter will be with them. They will be staying in local lodges and we will see them again in Lukla. We had to make this decision before we climbed Renjo La Pass in 2 days. It is sad to part for a little while.

We are trekking higher now, away from the crowds. It is cold enough even in the sun if the wind is blowing to wear hat and gloves. Up here there are lots of yaks, no trees and the valley is lined with snow covered peaks. The adventure continues
---
Messages for this post
For: Tom
What an Amazing Adventure! So cool to follow your journey. See you at Bread Alone when you return. Safe travels.
---
Gerrit, Lys & Steve - 11/13/2013
For: Melissa
Soak it all up and treasure every minute. Here, it was 73 degrees today and I went for a leisurely bike ride. I cannot imagine doing the climb that you are doing! Bonne route!
---
Sue H. - 11/10/2013
For: Soha/Dad/Everyone
Hey Climbers! Love the updates, sad a cpl members of the team stayed back, but still so happy that they got to drink in some beautiful sights, prob the best the world has to offer. Hoping you will all reach safely and take back great stories and pictures to share with them. Walked 3 miles in our nation's capital, great views, good fun. Some of us were more tired than we should have been and that makes your climb that much more inspiring. Sending positive thoughts your way! UM lost, So/Dad :(
---
Beej(author of post), Ruchi, Mitel, GP, Tinuben, A2 - 11/10/2013
For: melissa
Good morning! I have Charlie's pic with the big bandage on his head. I'll save for you. Today high wind warning here.
---
annette - 11/10/2013
For: Soha & DamarooMama
Was glad to hear that Ed is safe and still finding wonderful ways to enjoy his adventure. And am hoping you both (and everyone in the team) are doing the same. We thought of you both a lot - completed all 3 miles of the heart walk today, with your help we raised over $8000 and are feeling very satisfied - I know you know what that feels like too! Ruchi, Mitel, Beej and Tinu have made so much time to spend with Mom and I - we're loving their company. And we're all missing you! Stay well!
---
Sona - 11/10/2013
For: Lise
Wishing you a safe and great adventure!! You are amazing!
---
Dianne D. - 11/9/2013
For: Dan
Been tracking your trip. Stay safe and enjoy. Bring back some great pictures!
---
Pat and the Y guards - 11/9/2013
For: Ed
I know the feeling. Don't hesitate to head lower if balance remains an issue. Hope you can enjoy the beauty of the surroundings!
---
Tom - 11/9/2013
For: Melissa
Hi Melissa, Charlie fell while running in Mendon Park today. Drove home with bleeding gough and huge bump over one eye. I took him to Urgent Care for patch up and 5 stitches. Imagine what he could do to himself in Nepal where the rocks are a little bigger and the air is rare. Stay safe. Have fun. Take photos? S and C
---
Sara and Charlie - 11/9/2013
For: Soha
Hope all ok in sooooo cold and yey 14200 ft high camp. We are okay it is cold and windy here too but sunny today. Paras is here for few days as Sangita out of town for conference. Thinking of all of you as well as Ed and Tom. How's. Damaroo. ? You have day off so get lots of rest and get ready for next long up hill trek to wonderful lake. Can't you just ride "yak" - by now they must be used to strangers - but then it will be too easy...:) Have nice day.
---
Kaka/kaki - 11/9/2013
For: Melissa
Hi Mom! Did some shopping today. Down another pants size! Hope your staying warm there! Its was 35 when we woke up to drive dad to the airport this morning! My car windows were all frosted over! I found some cute new shirts to wear to work. So excited to have a 3 day weekend! Only 27 more days! Love you and Miss you!
---
Kassi - 11/9/2013
For: ED
Hey Ed, sorry to hear the news. Hope you are well. There you go, off to a new adventure -- should be interesting and fun visiting the villages. I think of you every day up there in the sky. Glad you have a buddy along!
---
Mr. Roman - 11/9/2013
For: Lisa
So proud of you, Aunt Lise! Safe journey! Much love and support. (Did you know yak is FABULOUS to knit with?! Think of them as giant balls of yarn.)
---
Carissa, Chris, Kate and Matthew - 11/9/2013
For: Everyone
Stay Warm and Keep the food in your stomach! I hope everyone stays well to enjoy your hiking!
---
Karla in Texas - 11/9/2013
For: ED
Hi Ed, We just want you to know how very proud we are of you. You are amazing and have and will be experiencing so much more than most do in a lifetime. We know this decision was difficult & disappointing for you. So glad you have Tom to enjoy all the wonder that is ahead for you. Love, Us
---
Fred and Joy - 11/9/2013
For: Lise
Hi Mom, Something to make you laugh in the thin air....We told C that he can't get out of bed before 6am. So this morning, G came down at 5am to tell us that C had turned on all of the upstairs lights on and was bouncing on a hippity hop waiting for it to be 6am. C was not happy to be told on so he came down and called G a "Holy Guacamole, Holy Smokes A$$ Burger." Only in this family! Love you and wishing safe climbing to you and everyone on the team. Love you! -B
---
Bianca, Chris, Garret & Charlie - 11/9/2013
For: melissa
Happy Saturday! Brooks picked up your Utah ski info the other day. Now you will be able to pick all the bump trails from the trail guides. Stay strong!!
---
annette - 11/9/2013
For: Ed
We are all so very proud of you, honey. I know you have to be disappointed, as I am for you, but,oh, what you have done! Love, me
---
Kath - 11/9/2013
For: Becky terry
Mjust talked with Mom...she said oh my gosh to being at 14,000 feet. But she is happy to hear the sun is out today and sends her love. Be warm and safe, we love the posts. Sent mom the first day group picture.
---
Linda and doug - 11/9/2013
For: Becky and Terry
Love reading the updates and keeping Mom informed! Sounds like an amazing trip!!
---
Kim - 11/9/2013
For: emily and ken
As your Dad said "Onward and upward" - stay warm and safe. Sounds like Ed and Tom will have there own adventure :) Glad they are ok. Hugs to keep you warm :) Aunt Debbie
---
Auntie D - 11/9/2013
For: Lise
Hi mormor, garret here. just wanted to say that i am incredibly proud of you right now. trekking through the rooftop of the world sounds like it's turning out to be an amazing adventure. It seems like something out of a book, scaling the rooftop of the world, dwelling among the yaks. The Tanis household is thinking about you all the time and sends it's best wishes.
---
Garret - 11/9/2013
For: Tom
It's the Journey. Keep the Posts coming as one adventure becomes two.
---
Edwina - 11/9/2013
For: Lise
Lise, Charlie says to "take deep breaths." We were all just talking about you being at such a high altitude and he just came out with that. Just thought I'd pass his advice on. We're all really proud of you!
---
Chris - 11/9/2013
For: Tom U
Hi Tom, Glad to know that you have a great option for exploring that puts you in a more comfortable situation. And with companionship no less. Trekking around local villages will be a different adventure with its own rewards. All is well with us. Looking forward to hearing about your trip over a warm hot toddy. Much love, C&L
---
Constance and Len - 11/9/2013
For: Emily and ken
Onward and upward. Good thing you two have cozy sleeping bags. Will give barb & Charlie update today. Hope Ed is ok. Tell him he went about 10,000 feet higher than I could have. Keep safe and warm. Love, Dad
---
D. Duck - 11/9/2013
No more comments are allowed at this time.