Viewing Post for: Everest Base Camp 2013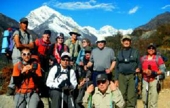 Date: November 8, Friday
Location: Thame. 12,200 feet.
Hiked 6 hours. Sunny, warm, clouded up in afternoon.

First comment from group: The pizza was amazing for dinner.

Second comment: A toss up between imitation mammut clothing for sale and we stopped at this very interesting nunnery. The older nuns had fled Tibet in 51 over the pass. Lived in tents for years. Then a small building. Now building a lovely prayer hall with donations from trekkers.

Third comment: Watched a helicopter fly out the current llama.

Forth comment: Met on trail by sherpas for juice break. Some trekkers feeling slow at altitude today.
---
Messages for this post
For: Ed
We have been watching your adventure day by day on the blog. I will bet the views from the plane into Luckla were spectacular! I am taking a bet that it was goat cheese on that Pizza instead of Mozzarella and that it tasted great. Have a good hike today on your way to Lugden and then less than 4000 ft to go to EBC!
---
Tom and Maureen - 11/9/2013
For: For DAMAROO and SOHA and Team
Wow Pizza at great HIMALAYAS, Like Heaven on Earth Enjoy climbing, best wishes
---
Neki - 11/9/2013
For: Melissa
Hi Mom! Pizza for dinner? What in the world? I hope it was good! Mike, dad and I went to the special ops museum in Fayetteville today, it was interesting! Had some serious fun at Fall Festival tonight too! Got myself a school hoodie, nice and toasty warm! Possible clothes shopping tomorrow, needs longs pants, getting cold her. 38 today! Miss you and Love you!
---
Kassi - 11/9/2013
For: Soha & DamarooMama
I'm here at the metro station, waiting for the gang to arrive from the airport. Mom's at home making pizza for us too :-) Aarav and Anjali are getting a taste of DC's fabulous trains and we're all preparing for the walk tomorrow. Walk with a little extra spring in your step knowing we're thinking of you as we do our laps here. To everyone - you're gonna reach there! And we're all gonna share it with you!
---
Sona - 11/8/2013
For: ED
Pizza for supper? I hope it was New York Style pizza :) 12,200 ft - a wonderful place for lofty thoughts. I hope you are keeping a small journal, Ed -- maybe to share sometime. You read all the Everest books as a kid - now you get to Just Do It.
---
Mr. Roman - 11/8/2013
For: Ed
Well, it snowed here today for three minutes. I took video so you won't feel left out. Everything is 10-4 here.
---
Cortland - 11/8/2013
For: Kemily
Kemily!! Just listened to audio Em! So good to hear your voice and glad trip is going well! Wish we could see more pics ! What an adventure! Mari and Steve xo
---
Mari and Steve - 11/8/2013
For: Kemily
Loved hearing your audio post, Em!! Everything sounds so amazing! Wish we could see some more pics, though. Missing you!
---
Joby & Lou - 11/8/2013
For: Lise
Pizza in Nepal! What could be better? Sounds like a movie title. Anyway, couldn't spot you in today's photo but know you're having a good time. Keep shopping!!!! After 6 hours of walking you all must be tired. Getting colder here but we're all ok. Love you, best to all your fellow Trekkers
---
Charlie and Marilyn - 11/8/2013
For: Lise
Hey Mom, Charlie is very happy to hear that you are eating pizza in Nepal, he definitely approves. We look forward to your updates every day.All is well here. It's starting to get cold although we are all in denial that winter is coming. We have a three day weekend because of Veteran's day, Yay! Sending lots of love, keep climbing!
---
Bianca, Chris, Garret & Charlie - 11/8/2013
For: Ed
I live for these updates! Looks so incredibly beautiful. We are all doing fine here. Still at work,but ready for weekend. Gotto has become quite the "talker" or "Whiner" A bit much! Try hearing that on top of Loley Worm serenades. Gretta misses her egg, for sure. I am SO proud of you, Me
---
Kath - 11/8/2013
For: Dan and Tom
Hope you are both doing well. It is fun watching your progress each day. Sounds like you are seeing some very interesting sites. Enjoy!
---
Kris and Steve - 11/8/2013
For: Ken
Just wanted to say hi! You're on my mind, and in my mind's eye you have frost in your beard. Have fun and be safe!
---
Lauren Sodano - 11/8/2013
For: Melissa and all
I hope the trip is going well. This is about the time Rick gets sick so you may have to help out over the next few days. Kami and his crew will take great care of all of you. Enjoy every amazing step and every awe inspiring view. It's like no other place in the world. And don't forget, yak patties are not edible. Don't learn that the hard way.
---
Paul Artruc EBC 2010 - 11/8/2013
For: Soha & Damaroo
Pizza sounds great - we had it for dinner last night too, almost like we ate together. Thanks again for the texts at 3:30am!! It may sound like I'm complaining, but really I'm just glad to hear from you! Technology! Enjoy the amazing views and enjoy each other - not a lot of father/daughter teams can say they've climbed mountains together - you guys can say you did it twice with Rick! Rick - thanks for putting up with them, I know how it can be :)
---
Ruchi - 11/8/2013
For: kemily
Scooted home for lunch to get latest blog and LIVE message. YOU GO GIRL! And Okay, that does it, we're ordering pizza for dinner tonight. Happy trekking!
---
mom and mil - 11/8/2013
For: Soha/Dad
So, was it Maggi Pizza? Hope it was tasty :) Great to hear Emily's description of the day. Sounds like you are all having an amazing time still, so glad to hear it. Hope you're already thinking about how you're going to trim down your 500 pictures to your top 40...I bet it's going to be super difficult with all the amazing things you're seeing! Be good, have fun - Dad's famous words! Good advice to follow. Stay safe. Hope everyone up there is having a great time. Lots of love! -Beej
---
Beej - 11/8/2013
For: Ken n Em
Hi you guys. I don't really have a message. I just wanted to see if this really works. Have fun. We're all following you along the way.
---
JP - 11/8/2013
For: ED
So great checking the blog each day. Feel like we are with you. Reilly and Gretta would love it. Maybe Gato most of all! Woke up to a short, beautiful snowfall. Saw a cardinal. Love you and miss you, Ed. Take in the awesome view for us.
---
Fred, Joy and Reilly - 11/8/2013
For: dj and soha
happy to read that u got pizza for dinner and enjoyed. slowly but surley u all will reach there.we are eager to hear from u from the base camp.enjoy climbing with spectacular view all are good here and hope there too. with love jyoti
---
jyoti - 11/8/2013
For: Kemily
All the way to Nepal for pizza! Glad the trek is going well and everyone is enjoying. Hi to Rick. Thanks for the great updates. Wow, just realized there is a recording. So great to hear your voice. A parents delight. Possible light snow today. Q chasing the bball in the cooler weather. Behavin' like a two yr old. Stay safe, enjoy the adventure. Love and lots of hugs, M & D
---
Donald and Daisy - 11/8/2013
For: Soha and gang
So wonderful to hear about your trek! Soha I'm sure you and Dad are having a great time! Take it slow and enjoy! Gin
---
Ginny. Kili 10 - 11/8/2013
For: Damaroo, Soha and Team
Wow!!! Pizza at 12,200 ft and six hours hike. Wonderful. Think of you all and wish the safe and wonderful continuous climb. All well here.
---
Gita - 11/8/2013
No more comments are allowed at this time.