Viewing Post for: Everest Base Camp 2013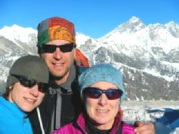 Date: November 11, Monday
Location: Renjo La Pass, 17,500 feet
A few headaches. Totally clear sky. 50 degrees. This is incredible.

We can see Everest and 3 other 8,000 peaks. Below us is the aqua lake of Goyko. Streaming down from Cho Yu is a massive glacier. We hung prayer flags with prayers each of us wrote. We awoke to a dark, icy, 10 degree morning at 5:00 am. We were hiking by 7:00 am. It took us 7 plus hours to reach this place. It was on ice and snow the last 3 hours. This is the hardest day of the trip. Probably one of the most stunning views most of us will see. A few headaches, stomach aches and a good dose of exhaustion to go around. Now to descend. Likely we will be hiking the last hour or so in the dark. We will let you know.
---
Messages for this post
For: Lise
Hi mormor, just wanted to say that were really proud of you. Seeing the peak of everest must be amazing. The tanis family wishes you good luck on your quest to scale the mountain.
---
Garret - 11/11/2013
For: Melissa
Hi,Melissa. Hope you are staying warm. I could NEVER make this trek. I raked leaves for a few hours this morning and my arms and legs are pretty sore tonight. Definitely couldn't handle 7 plus hours on ice and snow. God bless you and God bless your fellow hikers. Stay safe out there!
---
Ann - 11/11/2013
For: Lise
Dear Mom, Ijust googled where you are...wow! What incredible beauty, you must be in awe of your surroundings-I can't even imagine. By now you are probably incredibly cold and tired but I know that you have the strength to keep going. We are thinking about you everyday and looking forward to seeing pictures and hearing stories. The boys and I had the day off today, walked on the rail trail and baked some bread. I start knitting a scarf, I even cast the stitches on myself! Stay warm and safe. -B
---
Bianca - 11/11/2013
For: For DAMAROO and SOHA
Ba-BHAI must be so happy and proud of you, where ever they are must be blessing you all
---
Neki - 11/11/2013
For: Kemily
Kemily!! So great to see a pic of you guys! Though it sounds like the toughest day of climb/ice, it must of been the most stunning views! I hope your camera is working in cold temperatures to capture your moments that will last for ever ! Enjoy! Glad you are descenting tomorrow :) Mari & Steve
---
Mari & Steve - 11/11/2013
For: Kemily
All I can say is WOW ! I am tired just reading about your adventure :) You are all amazing - Nice to see your pictures - Stay warm and safe - Hugs and love
---
Auntie D - 11/11/2013
For: Melissa
Hi Mom! I'm so proud of you! I can't wait to see your pictures of the view! I got Wesley a new toy today. It's a hedgehog that honks. He LOVES it! I can't wait to hear about your adventure! I love you and miss you!
---
Kassi - 11/11/2013
For: kemily
Glad to see those smiles under clear blue sky. Good thing for layering to go from 10 degrees to 50 degrees and back again after dark. Keep warm and keep breathing as you trek onward and upward and downward. hugs.
---
mom/mil - 11/11/2013
For: Becky and terry
Namaste what an amazing day this must be for all. I have chills picturing the views. Sending thoughts and prayers,
---
Linda Doug - 11/11/2013
For: Soha and Damroo
Great achievement, congatulations to all. have safe descending, Dipu
---
Dipu - 11/11/2013
For: For DAMAROO and SOHA and Team
wow awesome,amazing journey, SOHA it is so good to hear your voice, congratulations to all of you, best wishes and stay safe
---
neki,pankaj - 11/11/2013
For: All
Stay Safe!! Thanks for the updates....glad to see you are all living the dream...what a opportunity and challenge.
---
Terri B - 11/11/2013
For: Soha, Dad, and All
Whoo-hoo! 17,500 FEET, amazing FEAT! (Word play!)Sounds amazing,so did your voice,Soha!Great to hear you, and get updated on how all are doing.Glad to have no news on Dad yet,we're assuming no news is good news,he's making it with bones intact!Sounds like you all deserve R&R after the tough day of climbing,glad to know the views are worth it.Doing my own prayers from here that each of you continues on strong and safe and that you make it to base camp! Diff view, same sentiments:)Love to all,
---
Beej - 11/11/2013
For: Kemily
Nice to see your faces in this pic!!! Wow--sounds like an exhausting, yet incredibly rewarding, day for you all!
---
Joby & Lou - 11/11/2013
For: Damaroo and Soha, Team members
Soha, so nice to hear your voice. Bravo, 17500 Ft. Very proud of you all. Stay safe. Enjoy every second as it is one of the life time event for some. All well here.
---
Gita - 11/11/2013
No more comments are allowed at this time.