Viewing Post for: Turkey: Mt. Ararat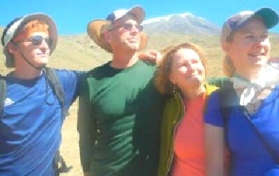 Date: September 15, Sunday - AUDIO POST
Location: Camp I Mt Ararat, 11,000 feet. 3,000 foot, 4 hour hike
Here is an audio post from the gang. Download or listen:
---
Messages for this post
For: GRANDPA SHOELESS
NICE CAMEL RIDE GRANDPA:) FUNNY SEEING YOUR PICTURES, WE CAN'T WAIT TO HEAR YOUR STORIES. BE SAFE AND SEE YOU SOON. (NOAH) I SCORED A TOUCHDOWN LAST GAME AGAINST WAYLAND& WOULD OF SCORED AGAIN, COACH DIDNT WANT US TO KILL THE SCORE ON THEM, ALSO KICK AN XTR POINT, LUKE DID GREAT 2 CAN'T WAIT FOR YOU 2 SEE OUR GAMES.
---
NOAH AND LUKE - 9/16/2013
No more comments are allowed at this time.