Viewing Post for: Turkey: Mt. Ararat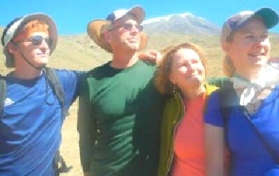 Date: September 15, Sunday
Location: Camp I Mt Ararat, 11,000 feet. 3,000 foot, 4 hour hike
Well, here we are. And it feels like we are on it. Dry, lava rocks, views way out. You can see forever. It feels like the Middle East. We got into the hotel last night at 12:30. We are mid afternoon at camp checking our crampon fit. Hard to believe when we are sweating at the bottom that we will be in icy windy at the top. Some anxious energy around camp. Tomorrow we day hike to 14,200 to acclimate.

All is well.
---
Messages for this post
For: John P.
I am following your itinerary daily and thinking of you today as you reach new heights. Hope you and Dave are showing the young whippersnappers there is life after sixty! Onward and upward! Love, Pris
---
Priscilla - 9/16/2013
For: David G.
By the time you read this you'll probably be at the summit in icy winds. Your friends in Ithaca send warm vibes your way. (And remember not to cross into N. Korea by mistake.)
---
Ed W. - 9/16/2013
No more comments are allowed at this time.