Viewing Post for: Inca Trail II 2013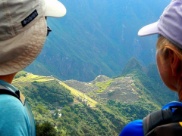 Date: August 2, Friday
Location: Augas Caleinte and MACH PICCHU
Tears. Best way to describe today. Good tears. Tears at the sudden expansive view of Machu Picchu when we went through the sun gate. Relief of having accomplished this trek. Sadness at seeing our new amigos go, some called them our protectors. Tears of being humbled by the mountains and the smiling service of our staff of local Quechua men. Tears at our sunrise offering to the world healing thoughts for our friend Lisa who could not join us as the sun hit the 20,500 foot Salkantay. Lighting of the world stripping the layers to the precious parts of our hearts as many of us thought of loved ones not with us in body. Good tears. Lagrimas. Awe.
---
Messages for this post
For: linda, laura, kelly, taylor, mackenzie and RICK!
Tears. Yours have ripple effects! Lisa wrote to me of her tears from your heart-felt ceremony for her. Love hearing of the magic, awe, ascents and descents. Thankful to hear of it all! Enjoy the lake and home stay! Be well and look forward to hearing of the fun trip details. love to all, Sandy
---
Sandy - 8/4/2013
For: Lucy
Pepperoni but the movie was terrible so I'm counting it as yours. Have a great time. I'm waiting for your return. Miss you. J.
---
John - 8/3/2013
For: Kelly, Taylor and Mackenzie
So glad to hear of this amazing trip you are taking! Can't wait to keep following the posts as you make your way on your journey. Safe Travels and Lots of Love!
---
Boyds - 8/3/2013
For: Kris
What an awesome sight you must be seeing. A trip you will never forget. Glad you are all safe. I have followed you every day. Enjoy and God Bless. Mom
---
Mom - 8/3/2013
For: KELLY, TAYLOR AND MACKENZIE
DEAR FAMILY, WOW, WHAT AN EXPERIENCE. WE PRAY FOR YOUR SAFETY AND RETURN HOME. ENJOY. UNCLE BOB & AUNT SHARON
---
UNCLE BOB & AUNT SHARON - 8/2/2013
For: Darlene
Wow! How exciting. Take lots of pictures and can't wait to hear all about your adventures. This looks like the trip of a lifetime. Was with your mom today and she says stay safe and enjoy yourself. I'll check back often to follow your progress. Love you, Tommy
---
Tommy and Karen - 8/2/2013
No more comments are allowed at this time.