Viewing Post for: Inca Trail II 2013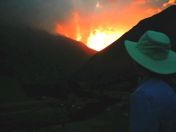 Date: August 1, Thursday. We hit Machu Picchu day!
Location: Machu Picchu and Aguas Calientes
In the chilly morning air we waited and as you see the sunburst into our mountains. At this place for hundreds of years including today, local people perform a Pacha Mama ceremony. We held our own for some of us to send healing wishes to a dear friend unable to make the trip because of sudden cancer treatment on top of a small peak.

This sunrise and ceremony set the stage for dramatic entry into the fabled sun gate of Machu Picchu. Here the combinations of mountains, ancient Incan mysteries, modern sharing the trail with local farmers portering for us, our own challenges all come together as we pass through the narrow entry point of the Sun Gate.
---
Messages for this post
For: Lucy
The view of your trip is truly breath taking. I trust you are having a great time. Things at home are okay. See you soon. J.
---
John - 8/2/2013
For: Dan
Dan, The sunrise must have been spectacular. It reminds me of the sunrise we saw while on our canoe trip, but it looks like that one can't begin to compare to yours.
---
Pam - 8/1/2013
For: the Brough Family
Kelly, Taylor and Mackenzie,What an incredible experience you are having! We are all excited to hear about it and see your photos. Keep your feet dry and stockpile your memories to bring home. Kate Horle, Sam, Alex and Brian Davis
---
Kate Horle - 8/1/2013
For: KRIS
WHAT AN EXCITING TRIP. THE SCENERY IS PHENOMINAL. MISS YOU AND CAN'T WAIT TO HEAR ALL ABOUT IT. TAKE PICTURES. LOVE, MOM
---
MOM - 8/1/2013
For: Darlene
All is well here and we see you are having a great trip! Remember: Bring back some photos we can enlarge and frame!
---
Jeff and Sue - 8/1/2013
No more comments are allowed at this time.