Viewing Post for: Inca Trail II 2013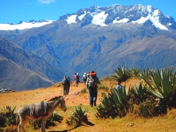 Date: July 31, Wednesday
Location: 12,500 feet camp. Camp in a llama pasture beneath Dead woman's pass. 6 plus miles of hiking
Not all 6 miles are the same. All up hill today. But the higher we got the more amazing the view. The tiny villages of local farmers was left behind. The gigantic glaciated mountains arise enticing and scary above the valley we have left.

The porters pass us throughout the day. The sweet sight of of our tents awaits us at the end of the day.
---
Messages for this post
For: To? (maximum 255 chars)L&L, Kelly and the girls!!
greetings from Cape May and the Jersey shore where sea level is making life easy. Opted against an evening swim when the 4th baby shark was hooked. Your hike sounds great....may the uphill add some variations and may those Incan gods look favorably upon all of you! Bring home good building tips for an island bathroom, please! Love to all, including Rick! Off to overnight with Kathy and Kelsey tomorrow eve and visit Lisa Bouchard on Friday. Do a healing sun dance in her honor....enjoy!!!
---
FromSandy? (maximum 255 chars) - 8/1/2013
For: Amy & Jeff/Mom & Dad/Yma & ???
Looks gorgeous! We are jeslous and we miss you. All is well here, though the onslaught of beans may prove too much by week's end.
---
Jeremy, Cindy, Jay - 7/31/2013
For: Dan
The views look spectacular but the hike sounds very strenuous. Hope you get a great rest tonight!
---
Pam - 7/31/2013
For: Kris StewartTo? (maximum 255 chars)
Type your message here...Hi Kris, I am following your jaunt every day. Sounds scary but, exciting. Hope you hold up ok. Miss you and keep you in my prayers. Love, Mom
---
Mom - 7/31/2013
No more comments are allowed at this time.