Viewing Post for: 2013 Kilimanjaro Cancer Climb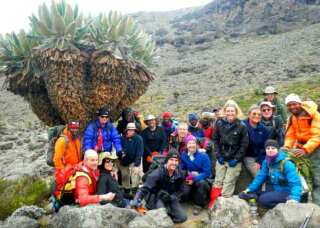 Date: February 15, 2013 4:00 pm.
Location: Barranco Camp, 13,000 feet.
55 degrees, cloudy. High point, Lava Tower. 15,000 feet. 7.5 hours hiking.

We all still standing. All are feeling good now. Even after our high point today. Catered lunch at 15,000 feet. We did send out an African today, Massia, His front tooth was hugely painful during the night. Went through the Dr. Seuss forest, see pic. Everyone is commenting how beautiful each day is. The group is getting to be like a good family, sharing stories, drugs and bad smells. Thanks for the encouragement you have been sending us.
---
Messages for this post
For: Joyce and Dave
Enjoying following along and looking forward to some good stories when you return to Rochester! Tom said he is envious...me, I'll live vicariously through your adventure.
---
Tom and Judy - 2/16/2013
For: Torey
Keep up the hard work Torey!! Girls are doing well in Rochester! Reach for the heavens!!!! We love you! Xoxo
---
Domenica and Keirstin - 2/16/2013
For: Joyce and Dave
Sounds like you guys are having an amazing trip! Hope the Alaskan arctic prepared you well enough for the cold. Good luck with the rest of the climb!
---
Carla - 2/16/2013
For: To Tom & Agnes
We are all excited to here about your progress. It sounds as though everyone is doing well. Keep your spirts up. All the best to everyone!!
---
From Max, Linda, Kip, & Sue - 2/15/2013
No more comments are allowed at this time.