Viewing Post for: 2013 Kilimanjaro Cancer Climb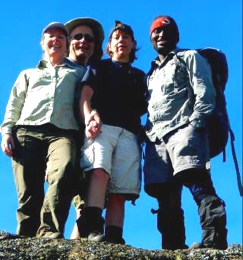 Date: February 14th, 2013 Valentine's Day
Location: Moira Camp, 13,500 feet.
Here is another audio post from the gang. Download or listen:
---
Messages for this post
For: Agnes & Tom
"20 years from now you will be more disappointed by the things you didn't do than by the ones you did do. So throw off the bowlines. Sail away from safe harbor. Catch the trade winds in your sails. Explore. Dream. Explore." -Mark Twain. Agnes, I'm so proud of you for taking the plunge! I trust you and Tom will have the experience of a lifetime. Take care of her, Tom! Best of luck. Xoxo
---
Kenna - 2/17/2013
For: Torey& Marianne
Hi Torey!How is climbing so far? I cant wait to see you when you come back. And yes all of us are all working very hard at gymnastics! Its so different having you not at the gym coaching us. Cant wait to see you when you come back. Love, Julianna
---
Julianna - 2/15/2013
For: Torey
So I was on the elliptical today, and I decided to bump up the steepness of the machine. Okay, let me tell you that I was SO TIRED afterwards. You are climbing a mountain...I was on the elliptical. Again, this just shows how proud I am of you. Clearly this is not an easy accomplishment but YOU CAN DO IT! KEEP GOING AND KEEP BELIEVING! Everyone is cheering you on here at home. We miss you tons! Natalie Maranto
---
Natalie Maranto - 2/15/2013
For: Everyone
Thinking of you all! Here are some jokes for your listening pleasure: Why did the belt get arrested? Because he held up some pants! What do you call a carpenter who lost his tools? A saw loser. If April showers bring May Flowers, what do May Flowers bring? Pilgrims. Just keep walking guys!! You can do it.
---
Sadie (Kili '08 &'10) - 2/15/2013
For: To GARSINS
Miss you guys and hope you are all doing. Everyone had a beautiful Valentine's Day. Bob was busy at work making people happy. Lori and Madeleine had a lovely dinner at Northside Namma watched the boys. Kevin and Alaina had a Home cooked meal of Cornish hens. Are snow is just about gone. Temps close to 40. Madeleine was all dressed up for her Valentine party on Friday. Namma and Gampa took the boys To the muesum. Stay safe and healthy. XOX
---
From Bob and Kathy - 2/15/2013
For: Torey & Marianne
Hello and Congratulations to the both of you. It is great to see all the messages of encouragement on such an undertaking. The determination of both of you and those before you for Jacquie speaks for itself. Enjoy every step and when you reach the top look around blow a kiss in the wind for all those that are with you in spirit.
---
Mister Le - 2/15/2013
For: Chris
Hope you had a fun filled Valentine's day. I was missing you even more today, but am so glad you are living this dream. I love you to the top of the mountains and the depth of the seas. Counting the days till I see you again. Loving you, Jen
---
Jen - 2/15/2013
For: All the Kili Climbers
I have a picture in my office of a single man running on a long, long road going down a mountain and you can see the rest of the road ahead of him going up the next one. The saying under it reads "The race is not always to the swift, but to those who keep on running" (I'm not saying you should to run!)-I can't imagine how hard it must be,or what your bodies are going thru, but keep going,you will reach your goal and the top of the world! We are so proud of all of you! Stay safe -Love M
---
Mom/Sheryl - 2/15/2013
For: To? Jimmy(maximum 255 chars)
Hey Jimmy are you getting any more grey hair's up there? Your most likely giving some people back here a few. Can't wait to hear all about it! Your FAVORITE haircutter......Michelle
---
From? Michelle maximum 255 chars) - 2/15/2013
For: Tammy
Tammy. Great pic!, Are you staying warm? Thinking of you every step!
---
Karen - 2/15/2013
For: All the Kili Heros
"Life is not measured by the number of breaths we take, but the moments that take our breath away." I can only imagine the many moments that you have already had,and are still yet to have,that have taken your breath away.You have all been given a wonderful opportunity to experience breath-taking moments and memories.Those of us waiting for you share your excitment and anxiously await your return to share those moments with us.Be safe,have fun and enjoy your journey. Sharon
---
Sharon - 2/15/2013
For: Torey and Marianne
Torey, thank you for the beautiful flowers for Valentine's Day.They are so colorful and smell wonderful,not that you would be able to smell them(LOL).Thank you for thinking of me before you left.I hope you got my card from Marianne,I wanted to make sure you knew I would be thinking of you too.We are bragging to everyone who will listen about what you both are doing and we are so proud of you.I envy how close you are to Jacquie.Blow a kiss into the wind to her from me.Love, Sharon
---
Sharon - 2/15/2013
For: Tom and Agnes
Hello Tom and Agnes--great to hear that on Valentine's Day you were at 13.7K. Stay safe and enjoy the trip of a lifetime!
---
Dennis and Lynne in Groton - 2/15/2013
For: Torey & Marianne
Hope everyone is doing well and thinking of you both! Keep up the good work and we are very proud of you !!! Lots of Love, Lindsey
---
Lindsey - 2/15/2013
For: Dad and Marianne
Hope you got some sleep last night. Linds and I went to dinner with Angela and Jeff. As much fun as the tea, hot dogs and power bars are... I'm more partial to the lobster bisque and steak! Don't worry we'll have some waiting when you get back. We're very proud of you and we love and miss you!
---
TJ - 2/15/2013
For: Mass-NY Travelers & Crew
Have followed your progress-sounds like everyone is doing reasonably well-it's good to be in a crew that travels well together-and supported by a home crew that's so capable-enjoy your time together-have fun going onward & upward in the next few days-we're rooting for you-say hi to everyone from us back in snow country.-Watch for DA14 asteroid passing overhead tomorrow
---
John & Tucker - 2/15/2013
For: Joyce and Dave
You guys are having such a romantic and adventurous Valentine's Day! Hope it is a great one. Much love from the windswept prairie...
---
Emiko, Matt and Gato - 2/15/2013
For: Big T and Mooianne
Love hearing the audios! Too bad you each can't sent a message our way every day. Everything sounds wonderful. You are making friends forever. We are all cheering you on every step of the way. You have a great support team back here waiting anxiously for you to return safely after reaching the top. We all love & support you and we are so very proud of you. Stay safe & take care of each other. Love you with all my heart!
---
Aunt Deee - 2/14/2013
For: To? (maximum 255 chars)Mike & Jenn
Type your message here...Best of luck for a successful climb!
---
From? (maximum 255 chars)Vince & Pam - 2/14/2013
For: CHRIS LILLY
Hiking in between hikes? What next? Sounds like you're all still enjoying life. You can't beat the memories that you are making right now! Can you see the stars REALLY CLEARLY? It must be awesome! Stay safe, luv from us.
---
AUNT SUE AND UNCLE DAVE - 2/14/2013
For: Torey
Happy Valentines Day!!! Keep up the good work. I believe in you!! Xoxo,Domenica
---
Domenica - 2/14/2013
For: Jim
Hi unce hope your doing good. Have u seen any animals.after to marrow we are on break.lilys class is following your track to the top.deven takes his drivers test to arrow. Hopefully he lives.sounds like your about half way. Winni says good luck.
---
Jason - 2/14/2013
For: Troy
So how is my wonderful husband?? I hope you are doing well. I am so ready for you to come back home but wouldn't want you to miss a moment. Hope tomorrow is another super hike day. I love you.
---
Sandi - 2/14/2013
For: Moo & Uncle Torey
Hi!! Hope today was a good day for everyone and you're staying strong! Moo, dad said happy valentines day! His internet is messed up and he can't get on to write to you. I really enjoy hearing the audios but would love to hear your voice moo! It was great to hear from uncle torey!! Stay warm and hope you're all having the time of your lives!! Love you and miss you lots!! Xoxo
---
Kerri - 2/14/2013
For: Marianne
Everytime I listen to the downloads of your voices there is a dirty joke would you believe? About buzz and woody from toy story. And how the mom's toys would have the same name. Same joke every time... Random. How is my Valentine? I want to hear your voice on a download! There has been way too much candy today. It looks like the Yukon Quest will end tomorrow. Only two mushers on the trail. Did you hear the Pope resigned? I hope you're well. I'm worried about you. Tell Pumpkins I love him.
---
Autumn / Pumpkins - 2/14/2013
For: Agnes & the Gang (is that Spanky's Gang) LoL
I love being able connect with you. This is so cool to follow your progress; to hear your voice, and learn about the culture. What an amazing adventure. Sending valentine hugs. Cheering you onward and upward. Stay safe. Try new things. Be energized by God's amazing creations on your journey. You can do all things through Christ who strengthens you. Love from TN.
---
Karen from Nashville, TN - 2/14/2013
For: Marianne & Everyone
"You cannot stay on the summit forever; you have to come down again. So why bother in the first place ? Just this: What is above knows what is below, but what is below does not know what is above. One climbs, one sees. One descends, one sees no longer, but one has seen. There is an art of conducting oneself in the lower regions by the memory of what one saw higher up. When one can no longer see, one can at least still know."-- Rene Daumal Happy Valentine's Day, Everyone!
---
Autumn / Pumpkins - 2/14/2013
For: Torey, Marianne and all the Climbers
Hi Torey and Marianne its Savannah I hope your valentines day was fun climbing a GIANT mountain we are wishing you good luck the whole way up HAPPY VALENTINES DAY! I got new earings for valentines day ! I hope your valentines day was AMAZING! Hi Torey and Marianne its Madison. I hope your valentines day was amazing. Good luck for the rest of the way up. We miss you soo much. All of us are wearing pink leos today for valentines day. I hope that You are enjoying the climb.- Savannah,Madison
---
The Penetrantes - 2/14/2013
For: Bestie(Marianne)
Happy Valentine's Day Bestie!! I miss your face, I can't wait to hear all about your adventure!! Xoxo
---
Raegan - 2/14/2013
For: Torey and Marianne
It was great to hear the audio post from your group!It sounds as though things are going well.How has the weather been?Is is rainy or cold yet?The weather here is not too bad, cold but not freezing.And we haven't had any snow since you were grounded on Fri/Sat.Are you getting our posts?I know we are writing a lot but we miss you and want you to know we are with you always.Be careful,have fun, stay safe. Love Sharon
---
Sharon - 2/14/2013
For: Moo & Uncle Torey
It is so great to hear these audios, Mooie I miss you voice!! I hope you are well I cannot wait to hear how you did and most of all to hug you and tell you how proud I am of you!! Uncle Torey you are amazing, you have what it takes so keep up the great work! To the rest of the gang so glad you are all getting so close to one another, funny how a little mountian can bring so many people so close! Love to all!! Ang
---
Sissy - 2/14/2013
For: Marianne & Torey & All Climbers
Thank you for the audios-it's fun to hear your voices and hear (not just read)how you are and what you are doing! It sounds like you are having a great time. Please hug Marianne for me, I miss our evening phone calls :( Stay safe, only a couple more days and a few hundred feet!! Stay warm..Love, Me
---
Mom/Sheryl - 2/14/2013
No more comments are allowed at this time.