Viewing Post for: Galapagos 2010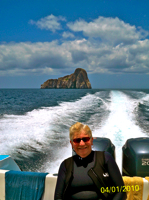 Date: 4/3/10
Location: Santa Cruz, Galapagos
After departing San Cristobal we stopped for another amazing snorkel and had the chance the see a Galapagos Shark along with some marine iguanas and lots more sea lions. We arrived at Santa Cruz island and checked into the Red Booby Hotel where we'll be staying the next two nights. We ventured into the highlands to get a look at the giant Galapagos dome shaped tortoise which can reach up to 500 pounds!! The picture shows Will inside of an actual shell. Before going back to the hotel we stopped to walk through a lava tube, an underground cave which held a lava river about one million years ago. Great day!!
---
Messages for this post
Currently there aren't any messages for this post.
No more comments are allowed at this time.