Viewing Post for: Galapagos 2010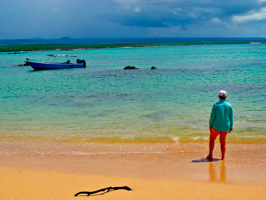 Date: 4/4/10
Location: Santa Cruz Island, Galapagos
Happy Easter!!! Rick started the morning with an easter egg hunt to get everyone in the festive mood. We spent our holiday snorkeling and sitting on our very own white, sandy beach. Our private stretch of coast allowed us some time to relax and sit under the mangrove trees to escape the hot equatorial sun. When we came back to town we spent some time sipping drinks on a nice porch while watching the sunset over the pacific. Indeed, it is paradise. Jan shows you how we spent our Easter in today's picture.
---
Messages for this post
Currently there aren't any messages for this post.
No more comments are allowed at this time.