Viewing Post for: Galapagos 2010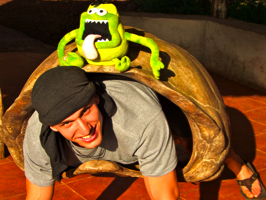 Date: 4/5/10
Location: Isabela Island, Galapagos
After a bit of a rough boat ride this morning we made it to our beautiful hotel which sits 100 yards from the water. The clouds parted in the afternoon in time for us to go see lots of marine iguanas and penguins. Yes, penguins at the equator. We had another great snorkel trip full of octopus, manta rays, and sea cucumbers and then we headed back to relax and have dinner at this amazing hotel. Rick shows you a marine iguana.
---
Messages for this post
Currently there aren't any messages for this post.
No more comments are allowed at this time.