Viewing Post for: Nicaragua Volunteer Adventure 2012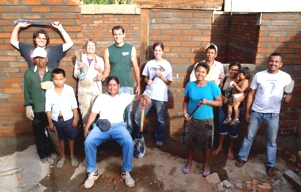 Date: January 31, 2012
Location: El Sauce
Often a picture can say so much more then writing. I think this is one of those pictures. A week ago this is the same place we tore down, a stick and plastic house. As you can tell by the faces, the sharing, the learning each others languages, bringing the ice cream man to the site to buy ice cream for all today, the 4 walls you see standing, the patience the locals used with our mistakes, the increasing laughter and joking, the questions about each others lives...hopefully you can see this and more in this picture.

We will be heading out to tour volcanoes, lagoons and Granada on the way back to the airport between Wednesday and Saturday. We will post one more time before we fly out.
---
Messages for this post
For: Erik
Congratulations to you and your team mates! What wonderful work you have done. God Bless you all! Enjoy the rest of your trip. Love, Marilyn and Charlie
---
Marilyn and Charlie - 2/2/2012
For: Erik Crapella and friends
What a great thing to do. Cannot wait to see you to learn more about the construction. Have a great tour before coming home. You are with a fantastic team. Love you, Nepnew.
---
Aunt Ann Marie - 2/2/2012
For: Erik
What a great job you all did ! It is so great to follow. Enjoy the last few days .
---
MOM and DAD - 2/1/2012
For: Lisa
Fast Job! Always ready to help people in need anywhere, anytime! A true woman of action. Thanks to all.
---
Aline, Jim and Arlene - 2/1/2012
For: Lisa
Hi Hon, The house looks great -really beautiful brick. Everyone should be so proud and you can tell by all the smiles that you have brought happiness to so many. Congratulations Sweetie, I love you, Mom
---
Mom - 2/1/2012
For: Lisa
Im so proud of you mom! The house looks amazing and hopefully getting the beds was easier than the mattresses in africa haha. Everyone looks so happy in the picture it brings a smile to my face. Way to go everybody! Love you mom, Mel
---
Mel - 2/1/2012
For: rRck
Great job by all Has to be a great feeling..
---
Daddeo) - 2/1/2012
No more comments are allowed at this time.