Viewing Post for: In the Footsteps of Buddha 2011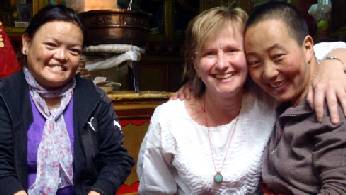 Date: September 20
Location: Back in Nepal
Wow ! This will be our last post.

All is well here. Some of us felt the earthquake and some did not. No damage where we were but here in Nepal there were some deaths. The people here all have stories about what happened to them.

We have two days in Nepal now to wind down before flying home on Thursday. That means a bit more shopping time.

We finished off in Tibet with sharing the temple with 100 chanting monks. We were very high above the valley at Ganden Monastery. Some of walked a kora, which is spiritual walk high on a ridge line circling the area. On part of it we lot a batch of incense and literally shouted from the mt top out to Tibet. We are learning more about the sadness and challenges of the Tibetan people in their life. Having not yet left Tibet as this is partially written we can not say more here.

We hope to see many of you on October 29 at the annual PPS reunion. There we can all share pics and stories.

We look forward to rejoining you, sleepy as we may be and sharing what this journey has meant to us.
---
Messages for this post
For: Gaylinn
Hey GG. Awesome picture! You created quite a flurry of worry over here with word of the earthquake. It's such a relief to know you and the group are well. Looking forward to seeing you back home.
---
Sunny - 9/20/2011
For: Joanna
The richness of this trip must be beyond measure...thank you for letting me follow along, and I look forward to an in-person account whenever the time is right. Love to all as you "complete" your journey!
---
Dawn and the Boys - 9/20/2011
For: Kate (mom)
Hi mom! So glad to hear the earthquake wasn't close to you! I hope you are still having a blast and the altitude hasn't been too much. The blog says this is the last post and you fly home thursday, I thought you came home next thursday?..keep me posted! In any event, hope you are enjoying the adventure! Love you!
---
Jess (daughter) - 9/20/2011
For: Kate
Hi Kate, So relieved to hear you all are safe. I even called Bruce yesterday to see if he had heard from you. The quake appeared to have done a lot of damage. I feel so sorry for those who were adversely affected. Love you. Stay safe and well. Carrie
---
Caroline - 9/20/2011
For: Kate
Hi honey, Glad to hear everyone is ok. The news on the earthquake showed massive damage and we were all concerned for your safety and well being. Enjoy the rest of your adventure and miss you. Love Bruce
---
Bruce - 9/20/2011
For: Joanna
Good to hear you are all well, given the seriousness of the quake in NE India and Nepal. Hope you are recovering from this strenuous trip and enjoying your last few days in Asia. I'm off to Montreal for tomorrow's meeting. Sent the program to you by email if you're curious. Still no word from David, but he's alive back in Denver going to a concert judging from his tweets :). Look forward very much to seeing you Friday morning, although I'm guessing you'll be totally tired. Love, Neil
---
Neil - 9/20/2011
For: Dayle
Glad to hear you weren't affected by the quake. Found more mushrooms checking out control spots in Mendon, but should have been there earlier! I look forward to hearing all about the trip. See you soon!
---
Rick - 9/20/2011
For: Kathy Kennedy
Glad to hear you are all safe. Fred cannot wait to see and bite you!!!
---
Fred, Gordon and Brian - 9/20/2011
For: katie Ken
Glad to hear all is safe and well and mother earths shaking didn't impact the the trip. Cant wait to hear stories and see pics upon your return. Safe Travels and Happy Trails Matt and Rita
---
Matt and Rita - 9/20/2011
For: Gaylinn
Glad you were OK during the Quake, say hello to Fred, and have a safe trip home. Look forward to seeing you this weekend!
---
Frank - 9/20/2011
No more comments are allowed at this time.