Viewing Post for: Everest Base Camp #1 & #2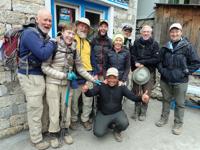 Date: Sunday, October 21
Location: Phakding, 9,500 feet 11 miles or so of walking
The photo is of our Sidar Lahpka. He has climbed Everest 6 times. He lives in Phortse. We had tea at his house. We have worked with him for over 20 years. His house was damaged in the earthquake. 3 years later he is still climbing Everest to try to get the funds to fix his house. We have decided to help spearheaded by Marlene. Our goal is 10,000 dollars. If you are interested in helping let us know. We will be putting up this project on our nonprofit www.journeysofsolutions.org. Hopefully we can help keep him off the dangerous job of helping people climb Everest.
Today we walked about 11 miles downhill. Amazing how tiring 11 miles of downhill is. It is much warmer down here.
We found Bob today. Yeah! He is back walking with us.
It is close to Lukla now. Excitement is high.
---
Messages for this post
For: Marlène
Tu entames ta dernière semaine, ce périple a très certainement enrichi spirituellement ! Tu me raconteras tes expériences. Je crois que la descente vers Lukia sera plus facile et que la température sera plus clémente. Keep safe Love
---
Jean-Claude - 10/22/2018
For: Bob
Glad you're back with the crew, dad! How are you feeling? Hoping you're all getting some rest as you descend to lower altitudes. I can't wait to hear your reflections on the experience. Careful in your final steps...looking forward to seeing you!!
---
Emily - 10/22/2018
For: Marlene
Hi there Mom I miss you and I cannot believe that you're trying to help out another charity situation :-) you're always trying to help better this world and I'm so proud of you Mom. Nico and I miss you a lot today I went to the mall and took me to go to the grocery store. Tomorrow I go to the hospital and I'm setting up my surgery appointment for my port. I see dr. Ambrus well tomorrow at the hospital. I miss you very much and hope that you're doing well. See you soon! Love Mel and Nico xoxoxoxo
---
Melz - 10/21/2018
For: Torey & TJ
Counting the days until you are home again. So very proud of your accomplishments. Can't wait to hear all about it!! Love you both so very much!!! Aunt Deee
---
Aunt Deee - 10/21/2018
For: TJ and Uncle Torey
I'm so happy to read these updates and know you are getting closer to coming home!! We miss you both and are just amazed at such an incredible accomplishment. We are with you every step of the way. Sending our love and always believing !! xo
---
Moo Blake and Claire - 10/21/2018
For: TJ and Torey
TJ and Torey, your quote for the day "there's no place like home." (Dorothy). Love, Sharon and Forever Jacquie
---
Sharon - 10/21/2018
For: TJ and Torey
TJ and Torey,our excitement is very high too, we can't wait for you to come home. We're excited for you to be getting warmer and closer to Lukla. Torey, the Brockport Clinic went great today,all the gymnasts had a wonderful time and learned a lot. TJ,Franklin is excited that you will be home soon to see how big he has gotten:) Keep going,you are amazing and have so much to share with us. Be safe and never forget how much we love you. Love,Sharon and Forever Jacquie
---
Sharon - 10/21/2018
For: Harry
Glad it is a little easier going downhill. Nice that you were able to have tea with Sidar Lahpka. Hope he is able to recover from the earthquake. It is good that you will see Bob again. Take it easy as you near Lukla. Stay strong.
---
Shannon - 10/21/2018
No more comments are allowed at this time.