Viewing Post for: Everest Base Camp #1 & #2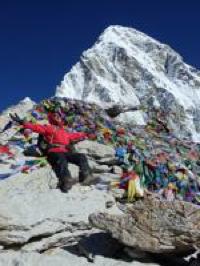 Date: Saturday, October 20
Location: Near Khumjung, 12,300 feet.
It was suppose to be an easy day. All dowhill. Well. We pulled into our lodge at 5 pm.
Highlight was the Tengboche Monastery. Amazing so big a place so far in. After that we went 1700 feet of downhill before needing to climb again.
This lodge is the best yet. Bathroom in the rooms with, get this, running water! Wow! We are down lower so it is a bit warmer. Dinner was some great momos and apple pie. Yummy! We are all perked up after our long day.
There is excitement about getting close to the end. Some took showers today. others are waiting. It is hard keep going after the excitement and push it took to get to base camp. But on we will go.
---
Messages for this post
For: Harry
Sounds like it's a little more difficult to maintain the enthusiasm when the adrenaline is gone. But I know you will want to experience every detail offered on this journey.I can't wait to see Shannon's scrapbook of your trip. And you better be able to pronounce all the names, etc that are in the updates. Continue safe travels.
---
Marianne - 10/21/2018
For: Marlene
I am so proud of you Mom and I miss you so much. You must be so happy that you finally could take a shower! And running water, oh what a delicacy :-) Niko's doing great I did his hair today and he let me do it for as long as I needed to hear as his monster bows put back in his hair. My day was okay although I didn't sleep all night. No naps today either! I see dr. Ambrus on Monday morning at 8:40 a.m. which is great. I still haven't had my surgery yet. I'm hoping to have surgery this week.
---
Mel - 10/20/2018
For: TJ and Torey
TJ and Torey- Love to you both from Bree. She said to be safe and hurry home. She loves you very, very much!!
---
Sharon - 10/20/2018
For: Torey & TJ
Hoping you are feeling better. We are so excited to have you back home soon to share your amazing adventure. Stay safe and know that we all love you very much!!! Aunt Deee
---
Aunt Deee - 10/20/2018
For: Rock, TJ, Torey, and anyone else I know (Harry?)
Friends! Having so much fun following you and hoping the adventures are worth every exhausting step and labored breath. They must be! Drinking a mimosa to celebrate how far you've come and your approaching finish line. Let's have one together soon. Also, the world beyond the mountains is still crazy. Enjoy your reprieve :) Sending lots of love, warmth, strength.
---
Beej - 10/20/2018
For: Torey and TJ
Congratulations to both of you and ALL of you on your amazing endeavor!!! I had tears for you when I saw your picture at your high destination in the sky holding photos of your Jacquie, your angel. Your strength, courage, drive, and passion absolutely "move mountains"!!!! May the satisfaction of your efforts provide you with what you need to complete your journey safely. Many blessings, and lots of love!!! Xoxoxo
---
Jillian and Jennifer - 10/20/2018
For: Marlene
Ce soir enfin un logement et une douche qui ont du être appréciés par l'ensemble du groupe ! Tache d'être prudente pour la descente, j'ai hâte de regarder tes photos, je pense que tu as en prise beaucoup malgré les difficultés de l'ascension. Tu me manques et I love you.
---
Jean-Claude - 10/20/2018
For: Harry and all
Warm water showers sound great! Glad you all feel better. What are momos? Keep strong and get back down to Lukla! Great jobs!!!
---
Shannon - 10/20/2018
For: TJ and Torey
That really annoys me when it tells me I have more characters then cuts off LOL -Forever Jacquie
---
Sharon - 10/20/2018
For: TJ and Torey
TJ and Torey,great news about the good food,lodging and showers.Sounds like a 5 star hotel!Glad to hear you are feeling better.I hope the closer you get to the bottom,the more you will feel back to "normal".I am very excited to see all the photos,I think you will need to write a book from all 4 of your climbs.Things here are fine,we are handling everything just like you taught the Dream Team to.Can't wait to see you,stay safe.We love you and miss you very much.Love,Sharon and Forever J
---
Sharon - 10/20/2018
No more comments are allowed at this time.