Viewing Post for: Everest Base Camp #1 & #2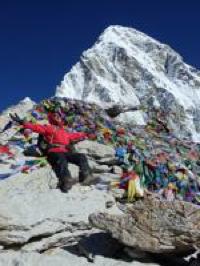 Date: Friday, October 19
Location: Periche, 14,000 feet.
Long day. Climbed Kala Patar 18500 first. The photo is of Kala Patar. A small peak behind Gorak Shep. Rick, Harry, Bill and Mike went up with Lakpha at 630 am. It was really cold. Bill's water tube froze. It is about 1500 feet of steady climb in 2km. After an hour the sun hit us and we warmed up a bit.
The view is stunning. You can see Everest from the South Col up to the summit. Khumbu icefall looks really scary. At the top of Kala Patar you can see peaks in all directions. Below is the giant Khumbu glacier.
The climbers were quite tired. We hung prayer flags with names of people on there for prayers to be sent to the heavens, maybe your name is there.
We got back to the group about 10 and had breakfast. The hike down took us to almost dark. People are very tired. People though are glad to be lower with some oxygen. A few are still quite hit by the altitude. Stomachs on edge, appetite lacking.... A good night will help us all as we go lower tomorrow.
Hard to believe we are on our way down.
---
Messages for this post
For: Harry
Great going Harry! Bill says he's eating a chocolate chip pancake in your honor. Dave says the Bills are with you - on the descent. Bob says bring back many stories. No one else here at 8:40. Enjoy the walk down! Dan E
---
Saturday morning crew - 10/20/2018
For: Mike
Great job! Looks like quite an adventure! Have a safe trip down
---
Steve - 10/19/2018
For: Torey & TJ
Thinking of you all the time, hoping you are feeling better, getting some food in you and resting as much as possible. Can't wait to see you both! Love you so much, Aunt Deee
---
Aunt Deee - 10/19/2018
For: Harry
Glad you made it to Base Camp and up Kala Patar. Sounds like you are having a great hike.
---
Dave W - 10/19/2018
For: Marlene
Tu as fait un formidable exploit, j'espère que tu vas pour le mieux malgré la raréfaction de l'oxygène. Je pense à toi chaque jour tu es sublime dans cette expédition, j'attend ton récit... A très bientôt exactement dans un mois. Lots of love
---
Jean-Claude - 10/19/2018
For: Torey & TJ
CONGRATULATIONS!!! I wasn't near a computer yesterday to congratulate you. I'm so proud of what you have done! You have accomplished what most only dream of. (And those like me who will NEVER dream of that!) Try to eat and rest as much as you can. I know that right now that may be hard. Stay safe on the way down. We are sending all our prayers and love.
---
Sheryl - 10/19/2018
For: Harry
Glad you took the other hike today to see the beautiful views. You are amazing - great to hear of your success!
---
Shannon - 10/19/2018
For: TJ and Torey
TJ and Torey, your quote for the day: "We all have dreams. But in order to make dreams into reality, it takes a awful lot of determination, dedication, self-discipline and effort."(Jesse Owens). YOU made your dreams into reality!!!! We love you!! Be safe and we will see you soon. Love, Sharon and Forever Jacquie
---
Sharon - 10/19/2018
For: TJ and Torey
I am so relieved you are on your way back down.You both sounded so beat up this morning,it will be great to have you home!I can only begin to imagine the memories you have made,both good and some not so good.Never forget that you accomplished what you set out to do and what an incredible accomplishment that is.Although I know I could never have done what you have done,I envy your time on the mountain with Jacquie.Rest when you can,come home soon.Love always & forever,Sharon and Forever Jacqu
---
Sharon - 10/19/2018
For: Harry Wolf
Can you give me a call I have a bond that needs approval, just kidding, stay safe and enjoy the view, can't wait to hear about it.
---
Andy T - 10/19/2018
For: Harry Wolf
Hope you are having a fantastic time!
---
Deirdre - 10/19/2018
No more comments are allowed at this time.