Viewing Post for: Everest Base Camp #1 & #2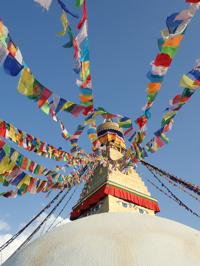 Date: Monday, October 8
Location: Kathmandu, Nepal
We are all safe in Kathmandu. Plane was a long, long, long way. The airport in China was pretty new, very clean and efficient. Nepal airport...well, very Nepali. The visa process was 4 steps. The computers went down. It took over 1.5 hours to get through the visa line. Upon exciting we were immediatley thronged upon. Fortunately I saw our friends before being swept up by humanity.

Now we were immersed into Nepal. A city of now 4 million, and most were on the roads we were on. At each light, a horde of motorcycles would wiggle into any vacant space. Many with whole families of 5 on them, women side saddled in skirts.

Our lovely hotel is a quiet oasis. We were not there right long before we went exploring. We visited the Tibetan quarter and it's giant stops. That is a huge shrine with many Tibetans spinning prayer wheels, chanting as they walk a more, a circumnavigation around this colorful area.

After this burst of life, we went to the funeral pyres. Here beyond the ancient Hindu temple, several bodies were burning next to the sacred river. The sun set as the smoke rose and we headed to the van.

We managed to stay awake long enough to eat a delicious dinner. Stay tuned... write us...
---
Messages for this post
For: Torey and TJ
Happy to hear you arrived safely. Enjoy every moment of this grand adventure! Sending love and Prayers. Xoxo
---
Keirstin - 10/10/2018
For: Bob
I had no idea you were doing this until Claudia said something! I can't imagine what an amazing experience this must be. YOU amaze me! Fred sends his best and we'll be following your journey. Tap into your yoga breath OFTEN! Sending you strength and love.
---
Gina - 10/10/2018
For: Bob
How exciting to be at the outset of a much planned for life trip. Stay safe!
---
Chipper - 10/10/2018
For: Rick, Tj and Torey
hahahaaha Namaste. Another adventure with my bro.. you guys sure are goofy. Have a great trip... Rick, no worries, I am having a big party at your house!!! Steveo
---
Steve - 10/9/2018
For: Marlene
Je suis content d'avoir de tes nouvelles depuis Katmandou ! Ravi que l'ambiance de ton équipe est bonne. J'ai bien reçu la photo du temple hindou, très impressionnant de voir la crémation des corps. Love
---
Jean-Claude - 10/9/2018
For: Bob
So glad you all made it safely. Kathmandu sounds wild and beautiful. Enjoy some veggie momos for me!
---
Emily - 10/8/2018
For: Uncle Torey and TJ
So happy you made it there safely!! Enjoy every moment, stay safe and take care of each other! Already so proud of you both!! Love you!!
---
Kerri - 10/8/2018
For: TJ and Torey
Hi there!You have only been gone 2 days and already I am counting the days until you come home!It sounds as though the trip there was exhausting so I hope you have gotten some sleep and some good food.Your adventure will be so exciting and we are very proud of what you are doing. You two are amazing and we know you are exactly where you need to be.Have fun, TJ-maybe tether dad to you LOL, and enjoy every moment of this trip.We love you very very much! Love, mom and Forever Jacquie
---
Sharon - 10/8/2018
For: Harry
Can't wait to hear the details of your amazing journey!
---
The Caputos - 10/8/2018
For: Harry
What an exciting trip. Glad you got there safely. Enjoy! Will be following your progress!
---
Jane - 10/8/2018
For: TJ and Uncle Torey
So happy you guys are there and safe and most importantly ate dinner!! Get some rest cannot wait to get more updates! Rick take care of our guys we need them back safe and sound! Love to you all!
---
Ang - 10/8/2018
For: Harry
Harry Glad you arrived safely. Looking forward to following about your trip. I think you should throw in Everest.
---
Dave W - 10/8/2018
For: Everyone
So glad to hear you all made it! Hope you are taking in all the sights, sounds, and smells of Kathmandu. Can't wait to hear more of your adventures! Please keep Rick out of trouble for me....
---
Jaima - 10/8/2018
For: Harry, Mike & Vicky
We hope you have a great trip. Be safe! Can't wait to see pictures.
---
Cory and Carol Gordon - 10/8/2018
For: Harry
How's the beer! Remember to stay hydrated! Tito sends her regards.
---
Brother rich - 10/8/2018
For: Big T and Little T
So glad everything is off to a great start! Take care and stay safe while you enjoy the experience! Love you both very much!!!!
---
Aunt Deee - 10/8/2018
For: Harry
Great to get an update Have fun, stay safe!
---
Barbara - 10/8/2018
For: Harry
Safe travels uncle harry! Have fun!!!
---
Carolyn - 10/8/2018
For: Harry and Mike and Vicky and all
Glad to hear you got to Nepal - have a wonderful trip!
---
Shannon - 10/8/2018
No more comments are allowed at this time.