Viewing Post for: Women's Projects in Tanzania 2018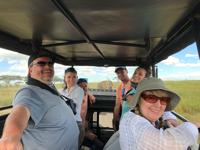 Date: Mon, 4 Jun 2018
Location: Serengeti National Park
It's quiet in the truck as we make our way across the Serengeti plains towards Ngorongoro Crater. The past few weeks have given us all a lot to think about- the people we have met, the moments we've shared, the adventures we have had will stay with us, a reminder of this big world and the connection between all things.

Our time in the wild has definitely shown us just where we humans fall in the hierarchy of the natural world! We were welcomed to Serengeti by a pair of lions, even before we reached the entrance, a silent statement that we were entering THEIR home and would no longer be the species in charge. The male elephant behind us in the photo kept us in our place, chasing the truck multiple times (thank goodness Yusuf is quick with the accelerator). And after driving us from the campfire, two lions jockeyed for the territory around our tents all night, keeping us awake with their very vocal display and the bit of anxiety it caused. They did graciously pose for us at sunrise the next morning, so all was forgiven.

Each night we settle by the fire to enjoy each other's company and discuss the best parts of the day (after scanning the area for the glowing eyes of lions and hyenas, of course). Every one of us struggles to choose just one thing to single out as the highlight. From the baby elephant running to its mother to a tree full of sleeping lions, we are in awe of this place and the beauty and power it has shown us. There are too many moments to mention here, but we all have photos and stories to share when we return home. Many of these sights are a once-in-lifetime experience for us mere humans, but here in the Serengeti it's just another day. It's good to be reminded that this world is bigger and more powerful than the humans that inhabit it. I think our time in Tanzania will change each of us in some way. The people, the land, and the wildlife can make a profound impact on the soul. It will be difficult to say goodbye. But as we have been reminding each other, there's still more to go!
---
Messages for this post
For: pack paddle and ski
It sounds amazing!! Miss you and wish we could be there Can't wait to see the pictures of the elephant chasing the jeep
---
Barb & Nate - 6/5/2018
No more comments are allowed at this time.