Viewing Post for: Women's House Building 2017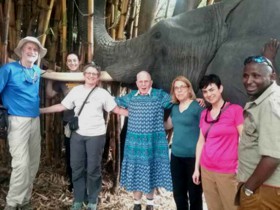 Date: Sunday, February 26
Location: Karatu Tanzania
As you can see we have already run into an elephant. Very dangerous. He was hanging out below us at lunch. Plane flight of a total of 17 hours traveling went well. Stopped a bit in Ethiopia. Lots of movies on the plane. A bit sleepy but super excited to be here. Fascintaing mix of people on plane. For example, the man who sat next to me escaped the Congo 30 years ago. He was a refugee in Greece for 3 years before going to Canada. He has been there 25 years. Among his businesses, one is making TV shows. He is heading to the Congo to spend a month and a half to develop political activity. He had many interesting thoughts on how to be politically active. He has to be careful or the opposition could kill him. It is good to see and be with our friends Bayo and Yusuf. Bayo was telling me about he just built a new preschool. His primary school had grown to 800! He needed to move some to a new school. Jet lagged. More tomorrow.
---
Messages for this post
For: Chris
Looking forward to your daily messages. This is why we work hard every day, so we can play hard like this Special Vacation Our family is so excited to hear & see pictures. Eat & Drink well.
---
Aunt Joanne - 3/1/2017
For: Chris Laz
Hi - what an amazing picture! And to think this is only the start of a wonderful adventure in so many ways. Will keep watching the posts as each day unfolds. Debbie
---
Debbie Richmond - 2/28/2017
For: Mary Callaway
Hi, Mary! I can't tell if my original message got sent, so here I go again. Hope you're having lots of fun and getting some relaxation in as well. Say hi to Jaima. Tell her I'm Jane Bryant's mom. Love, Anne Bryant
---
Anne Bryant - 2/27/2017
For: Mary Callaway
Hi, Mary! So happy to see you having fun on one of my favorite continents EVER. I'll be thinking of you and watching for updates. Also, hi to Jaima! I recognized her in the photo/ had no idea she would be there, too. Tell her I'm Jane Bryant's mom. Stay healthy! Love, Anne
---
Anne Bryant - 2/27/2017
For: the rest of my family
You guys seem to be standing so that is good. Have fun with the animals.
---
Paula - 2/27/2017
For: Mary Callaway
Happy to see you right in the middle of the activity in front of the elephant. Better in front than in back. This is surreal. All is fine - Paul has called a couple of times and I'm picking them up Tuesday at 5:15 for a dinner at Max and then the RPO. All is well and what is expected. Keep up the good work. You make me laugh as well as smile, dear girl. all love, Mary
---
Mary Critikos - 2/27/2017
For: Jaima
Great to see all of your smiling faces! Enjoy and keep those posts coming.
---
MomDEPAT - 2/26/2017
For: Mommy(Jaima)
Hey there! We are so glad you have arrived!! We love you and are excited for you!! Have a great time! We are looking forward to more posts of your adventures!! D, E and A
---
Family - 2/26/2017
No more comments are allowed at this time.