Viewing Post for: Greenland by Day Hike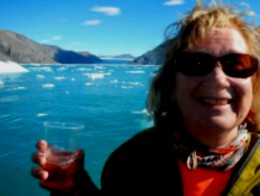 Date: Wednesday, August 24
Location: Igaliku, Greenland
How often does one get to write that location? So it is true. We are here. After 2 days Gaylinn made it. We got to the airport in Iceland to find out they had not just switched flights but to another airport an hour away. Siki, our new bus driver friend made the switch for us. And we got in just in time for dinner.

So, how do I explain Greenland? You fly over an amazing ice cap studded with mountains. Seems impossible there could be a place to land and walk. But suddenly there was a tiny green strip of land along the sea below a huge cliff.

Narsarsuaq was an American air base. Today Puttut took us out onto the fjord amid so many fantastic sculptured ice bergs to the calving flowing glacier at the fjords head. Puttut is a 1958 fishing vessel of wood from Iceland. Top speed 5 mph. Even in calm seas, water comes over the sides.

We were then dropped off to walk an hour on "the King's Road" to Igaliku. Town of 15 houses and over a thousand years ago the seat of Norse power in Greenland. Only giant stone ruins remain to tell their stories of these ancient lives. What became of the Vikings here in the 1400s no one knows. Their ruins were discovered in the 1700's. Dinner tonight? Reindeer of course. Stay tuned. .. Dramatic new hike into another fjord tomorrow. The log over the river is gone so we need to climb a steeper new way...
---
Messages for this post
For: Barbara
Love seeing your smiling face in Greenland! Amazing. Soak it all in.
---
Tara - 8/29/2016
For: Jennifer
Hello Jennifer, The fern garden and Todd are missing you. Enjoy it all. XOXO from all of us
---
Sara - 8/25/2016
For: All
Hello fellow trampers! Enjoyed every moment in Iceland with each of you. My best outdoor trip ever and best group ever! Hot and muggy in Rochester. Hope our trails cross again soon. Enjoy Grenland! Missing each of you - bob cooper
---
bob cooper - 8/25/2016
For: Barb
LOVE THE PHOTO!!! You are SO CUTE! I miss you a lot, mom!
---
Katie - 8/25/2016
For: Mary and Will Callaway
For Mary and Will, SO excited to be able to follow your journey this way. Can't begin in imagine the magnificence you are seeing. Wishing you all you need to enjoy every minute. With so much love and admiration for you!!! Jane Morris (8/25/16)
---
Jane A. Morris - 8/25/2016
For: Mom and William
We are enjoying the blog updates and hope you are having a great time on your grand adventure! Have fun and stay safe. Love, Genevieve and Todd
---
G&T - 8/25/2016
For: Mary and William Callaway
Hello there - the weather has finally changed - we had rain last night and within the hour I will be picking Paul up to go to lunch at Palmer's - we had gone there a couple of days ago after Rocky's and he found some fresh fish to take home. This time we will lunch there. Tomorrow he's going out to lunch and I will probably take him out either Monday or Tuesday depending upon your return schedule. If it is late in the day, it will be on Tuesday - waiting your return. All is well.
---
Mary Critikos - 8/25/2016
For: Gaylinn
Glad to hear she finally made it. I'm healing, not working very much, feeding kitties. Have fun.
---
Antoni - 8/24/2016
No more comments are allowed at this time.