Viewing Post for: Everest Base Camp 2010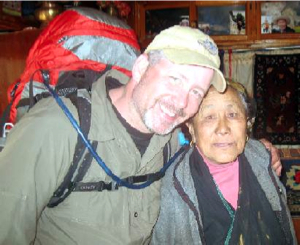 Date: November 19
Location: Lukla still
We had a good forecast but nobody told the mountains. Up at 6:00 am, waiting all day, clouds never opened enough to fly. Still here. Working on plan F, still attempting to make our flights. The window of opportunity is narrowing. On the plus side the hotel has western toilets, magazines in other language and solar showers that are glacial without sun. Stay tuned... The drama continues....
---
Messages for this post
For: Tow W
Hang in there Dad! enjoy the extended stay! We love and miss you!
---
Kate - 11/20/2010
For: Matt
Sorry to hear you're having challenges getting home. I can imagine how badly you want to get back to your family. But, you did not need to go to such extremes to trump the NJ trip travel snafus that Kathy and I encountered a few weeks ago. You win! Trailways is on it's way to get you. Safe travels to all.
---
Ann - 11/20/2010
For: to all the patient JOI hikers
Hurry up and wait. I know the waiting is frustrating, as it is to us. But, I know you are making the most of it. Just think, more time to buy presents for your loved ones! Actually, your safe return will be the best gift. Travel safe. Love you all.
---
Linda #2 - 11/20/2010
For: Matt
Well its Friday night and we made it through the week! We are cozied up watching movies and wishing you were here. Your Mom is beside herself with worry about the clouds, but oddly we are calm and just want you all safe. Rest up so when you can travel the jet lag won't be so much - cause we have plans for you upon your return!!! Remember to stay in the moment, let the worry go and just make the best of this delay. It'll be a story you'll entertain everyone with when we are in a nursing home -
---
your girls - 11/19/2010
For: Kathi
I echo Peg's words and thoughts..must be like "Ground Hog Day"all over again---again--again. take more pics(i guess of clouds) will they let you explore? hoping to see yu soon..but a safe return is worth a wait
---
brenda - 11/19/2010
For: All my JOI Heros
Sorry to hear you are having such a hard time getting home. Think of all you everyday. Stay strong and warm, My prayers are with for sunshine and open skies. Safe travels my friends.
---
Kilikaren - 11/19/2010
For: Esther
Hope you get out soon. Leaving tomorrow for Phoenix. See you when we get back!
---
the Tubers - 11/19/2010
For: all
We are sitting in the Houston airport and were chatting about u guys! Decided to check up on you and now we feel guilty that our next flight says on time. I know u must be going crazy- just know we're thinking of u and sending u good vibes for good weather! Make the most of this adventure I cannot wait to hear Pauls recap of it! Matt u don't want to come back to the office anyways- your office has a new look. Muwahaha. Be safe everyone!
---
sadie and phil - 11/19/2010
For: Tom S
Hi Uncle Tom! It's been amazing reading about your trip!..I can't wait to hear more when you get back. I'm praying that you all get back safely. Your trip has truly been inspiring!
---
Carol Gutierrez - 11/19/2010
For: Kathi
Sometimes the "fun" isn't till you look back on it - remember. Enjoy the moments for what they're worth right now - you'll be home soon. Safe travel whenever it happens. We'll be at StonyBrook tomorrow "toasting" your adventure and wondering if you're on a flight yet. Chin up - think "buttershots"!!!!!
---
canoelite - 11/19/2010
For: Tom W and all
Hope you all are somewhat warm and fed. This AM the Lukla airport dilemma was on several international and US WWW sites. The last big delay was in 2006...hope you aren't trying to break any records! Best of luck, wish we could move "ole man weather". PS Cara just made it out.
---
Ron and Jane - 11/19/2010
For: Patrick
Oh, not the news we wanted to hear! From today's Guideposts is a quote from Isaiah: "In quietness and trust is your strength..." I've been reading it religiously (ha!) to keep up our tradition and look forward to starting our mornings together again when you return. We have so many traditions, don't we? Love and miss you so much.
---
Robin - 11/19/2010
For: Tom W
Hope you're feeling better and enjoying your extended stay in Lukla. Good luck with your trip home. See you soon.
---
Pam W - 11/19/2010
For: Patrick
From Annalie: What did the ball say to the stapler? Wow, you're sharp! Heehee, isn't that a funny joke? It is? Great! Do you know what? This is really sad, but I need to tell you this. I don't really like it that it's really cloudy. Clouds, clouds, go away, come again another day. All the children want to play! Clouds, clouds, go away! I miss you very much. Bye!
---
Annalie - 11/19/2010
For: Alison
Remind you of offshore, waiting on weather? Enjoy the tranquility and the ultimate cool location - and be glad you don't have to listen to armies of leafblower maniacs like here. I'll keep the champagne on ice (or else get another bottle!). All my love.
---
John - 11/19/2010
For: All of you
Hang on all of you amazing climbers. Stay strong. Be safe. You are awesome. Good vibes coming your way.
---
Martha Roney - 11/19/2010
For: Rick
In case you didn't get the separate email, Chris at Van Zile said the three people who had an earlier flight out of Kathmandu are now waitlisted on the flight everyone else is on. Also that later flight has had a time change and will be leaving Kathmandu at 3:05pm instead of 4:15pm.
---
Bryan - 11/19/2010
No more comments are allowed at this time.