Viewing Post for: Fire and Ice: Iceland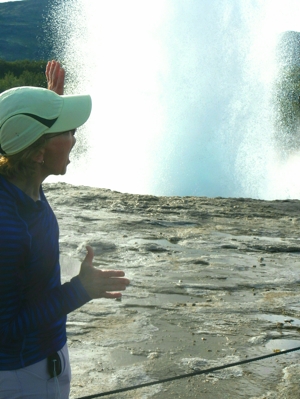 Date: Friday, August, 19
Location: Geysir, Iceland
Sweet touring day. It wad a rough morning, meaning that it was hard to get people to get out of the hot springs. Soak, soak some more, look in the distance at the ice cap, soak some more... It is a natural hot springs. You move around to get the right temperature of hot water from the spring mixed with cold from the stream.

We drove and stopped at a deep water filled volcanic crater. Aqua blue. Surrounded by black gravel slopes and cliffs. Then we continued toward the ice cap so graciously showing itself all day. Gullfoss, the country's most famous waterfalls sits right below it. Just down the road we waited in a geothermal area for the geyser to blow. This is the place all geysers are named after. It gushes in a huge one burst spout at irregular moments. Stand in wrong place, you get an early shower.

Tomorrow we get to ride the famous Icelandic ponies. In the evening we explore downtown Rejkavik. A great way to wrap up the week.

This will be our last Iceland post. Tuesday we will begin our posts from Greenland. Some are staying and sadly a few need to return home. Please follow us Tuesday. The blog will be under a new title in the liveupdates place on the PPS site.
---
Messages for this post
For: Rick
FLIGHT OUT OF ROCH CANCELLED !!!!! They are saying I can't get out of here will Sun 530PM !!! Working on it though. What to do? Unfortunately I do not have the woman's name or number who is leaving at the same time
---
Gaylinn - 8/20/2016
For: Barb
Keep having fun, mom! We miss you! Xoxox
---
Katie - 8/20/2016
For: Bob Cooper
How's the coffee ? Keep having fun and stay safe!
---
Pam lucky - 8/19/2016
For: Bob Cooper
Another exciting day! Hope you have taken lots of pictures! I have so enjoyed reading the live updates! Have another great day!
---
Rose Cooper - 8/19/2016
No more comments are allowed at this time.