Viewing Post for: Fire and Ice: Iceland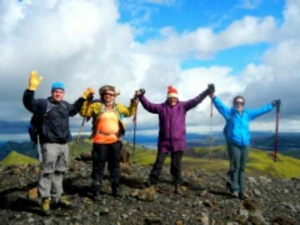 Date: Thursday, August 18
Location: Svienstendur Mt,
Yeah! We awoke to clearing skies. Perfect day to get the best weather of the trip.

We drove an amazing 4 x 4 road, many stream crossings deep into the interior. And then we drove up onto the mt on steep black volcanic gravel. Sticks marked a route up to the skyline. The views swept from the largest ice cap in Iceland all around the contorted volcanic valleys. The turquoise lake, 40 km long, swept out of sight to the base. Behind us another ice cap appeared in the clouds.

The second group climbed a smaller summit, walked in some snow and stopped at a precipitous cliff above a glacial valley. We returned to the base to explore the lake. One car appeared to be running out of fuel. Big problem since 2 plus hours to a gas station. It was sent out for an emergency run but the trolls must have fixed it by magic. Suddenly it started working. Yeah! We returned to the cabins to go see the rainbow disappearing into the misty canyon of our waterfall. Like desert on an incredible day.
---
Messages for this post
For: Mary and William Callaway
...there you are celebrating God's gifts while Paul and I are going to lunch at Rocco's on Monroe Avenue within the hour. The weather has broken here and it is now bearable. Tomorrow I see the new Meryl Streep movie which I hera is wonderful, wonderful. love to you both from us all
---
Mary Critikos - 8/19/2016
For: Barbara
Hey Mom! Cant belive you're on another crazy adventure!! Rock on!!! Stay dry and warm. I miss you.smoochies
---
Carol Lustig - 8/18/2016
For: Bob Cooper
I love reading these daily posts! How awesome! Cannot even imagine the beautiful scenery you are experiencing! Keep enjoying the adventure!
---
Rose - 8/18/2016
No more comments are allowed at this time.