Viewing Post for: New Zealand Adventure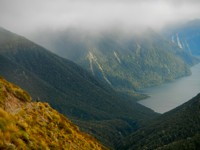 Date: MARCH 6, SUNDAY
Location: QUEENSTON
So, this will be the last post. Sorry. We had the satellite phone with us on the trek but the button had been pushed so no juice so we could not post. Too bad as it had been an world class experience. We could not get out to post until we got off the trek our last night.

The first day was a 3,000 foot uphill to above timberline. The wind was ripping and the view down into the fjords was stellar. Extra bonus was a cave to explore. The huts are built for about 50 people. People from all over the world. Cooking is done in one big room. Lots of stoves going.

Day 2 must be one of the best hikes in the world. We were high above treeline in a high wind all day. Fabulous. Fjords, steaming clouds, remote mountains in all directions. Long day though and some were quite tired.

Day 3 was a long walk in soft moss forest. Ferns, exotic plants and the call of the bell bird. We ended at a lake and swam. Rain held off.

And Day 4. We hiked out excited to spend the evening in Queenstown. The contrast to the quiet of the mountains with the hyped up tourism city brings us back our transition home. It has been very wonderful and diverse exploration of the south Island. It seems we only sampled from such a huge platter of the possibilities here. Hard to leave.

More pictures on the Pack Paddle Ski Facebook page.
---
Messages for this post
Currently there aren't any messages for this post.
No more comments are allowed at this time.