Viewing Post for: Ethiopia Explorer 2015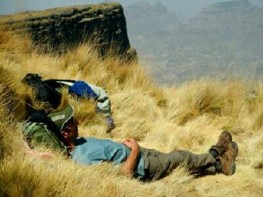 Date: Sunday, March 1
Location: Cheneek Camp
We hiked 4 hours up hill to over 14,000 to an outstanding view on a mountaintop.

The Walia or Ibex that is endemic here put on quite a show for us today. As our farewell gift as we hiked back into camp some came out right next to us on the road. Their horns are incredible! So elegant and long. A real treat to top off the end of our trekking part of our trip.

Last night it got below freezing here but when the sun comes out it is hot.

We had some fresh lamb for dinner last night. Real fresh. Delicious and grilled cheese sandwiches. Food has been amazing still.

One of the treats of a trek is you get to know your rangers, guides, cooks. The story of their lives and the drama so recent here is like out of a movie. Yet they have this wonderful positive going forward attitude. The park development is very conscious of spreading jobs out. For example our 6 horsemen came from one village. They will only get a chance to have that job once every two years. Horses are 12 dollars per day to rent.

We are getting such a different sense of history. Here it has been only a bit over 15 years that they have been out from oppressive dictatorships. Many are reaching and there is such a hope for the country.
---
Messages for this post
For: Karla
Wow.. Below freezing then hot..sounds like texas. I never realized Ethiopia had such history. I believe everyone should experience what you have anday r we would be in better spirits. I am waiting until u get back so you can cook me some lamb. ;). Will be waiting for more post.
---
Dawn - 3/2/2015
For: Marcia
Glad to hear your voice. Of course you would finagle a horse ride! I'm having sympathy sickness for you on my return from my trip. Enjoy yours more than mine. Your is well deserved as mine came from. A sneeze from a student. Safe travels
---
Lisa - 3/2/2015
For: all
Incredible stuff! So interesting. Based on your itinerary you have a long drive Monday....buckle up, safety never takes a holiday! Chris : Don't forget our Baboon. Deb is going to babysit it for us as long as you have it potty trained...we have already worked that out.... Enjoy...you still have a full week of excitement. Can't wait to hear....
---
Terri - 3/1/2015
For: Chris & All
Hey guys - Sorry to hear your trek is coming to an end. I'm sure there is still lots to see and experience on your trip. As always, thank you, Rick, for these daily posts - everyone at home loves following along. PS: Chris, Terri & I are wondering what you will name your baboon.
---
deb - 3/1/2015
No more comments are allowed at this time.