Viewing Post for: Kilimanjaro Climb 2015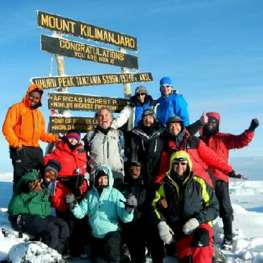 Date: Monday, February 16 - AUDIO POST
Location: Summit of Kilimanjaro! 19,340 feet. 7:15 am Africa time.
Here is an audio post from the gang. Download or listen:
---
Messages for this post
For: TIm
Woo hoo, way to go Tim. Can't wait to hear the stories of the climb. Next stop Everest!!
---
Anne and Steve - 2/19/2015
For: Kris and Ben
Woohoo! Way to go. I have tears in my eyes as I hear your voice from the top of Kili. Awesome! I'm so so happy for you and your whole group. It's so exciting and a testament to your connectedness that you all made it to the top together. Blessings to all of you as you come back down to earth. xoxoElizabeth
---
Elizabeth - 2/17/2015
For: Susie Z
Congrats on your awesome accomplishment. . Can't wait to hear about it, and see some pictures. ..
---
Joe Turello - 2/17/2015
For: Charlie and Tim
Congratulations guys! I've been following the posts every day and enjoying your adventure. Unbelievable that it is bitterly cold here in New Jersey while you are enjoying "tropical" warmth at the top of the world! Keep having fun, it's still a long way down.
---
Chris - 2/16/2015
For: kris and ben
Hey! So glad to see everything is going well, cant wait to see you guys and hear all about it! Have a safe trip back down.
---
rob and liz - 2/16/2015
For: All
So you claim to have climbed to the top of Kilimanjaro, eh? Oh, really? Then why is it so bright at 7:15AM? And why are shadows going in all different directions then? I know a fake scene when I see one. This is the '69 Apollo lunar landing hoax all over again.... Okay -- I am in awe that you guys all did it with nary a mishap along the way (at least not that you're telling us -- Kris -- did your ankle hold up?) Congrats to all! Be careful on the way down (I'm sure you will). Keep posting!
---
Rich and Ian - 2/16/2015
For: Carlos, Rick
Hi, Carlos, Hi, Rick, I figured you'all ought to be near the summit by now and, checking the page, see that you've been and are back at an altitude with oxygen. It sounded spectacular (and 25 F at the summit is downright toasty). Bittersweet for Rick, I suppose. Have a good trip back. - David
---
David Guaspari - 2/16/2015
For: Kris
Kris, Good to hear a PR professional reporting from the top of Africa! Have a safe trip back.
---
Toshio - 2/16/2015
For: Sue Z
CONGRATS!!!! YOU DID IT!!!!! Congrats to everyone! You guys are awesome and rock! Great job to all! Sue- I am so proud of you, you can accomplish anything you put your mind to, you are amazing. Dawn says hi! Can't wait til you come back and we could hear your stories! Looking forward to it!!!
---
Christina C - 2/16/2015
For: ben and kris
Congrats! Looks like a blast.......................
---
ian - 2/16/2015
For: Susan Holmes
Susan, Yes...you did it..Congratulations to all of you..what a journey..I feel like I'm there with you..thanks for all the posts..Enjoy your decent..Jeanne
---
Jeanne - 2/16/2015
For: Rick
Rick -- thanks for touching the lives of so many people and taking each and every one of us on the Kili journey of a lifetime. Safe travels on your continued journey through Africa.
---
Tammy - 2/16/2015
For: Rick
Wow, I am amazed once again...You got everyone to the top one last time. Say a prayer to the mountain, it has been good to us, and then enjoy the descent....
---
Steveo - 2/16/2015
For: Carlos and Tim
Congrats on your epic adventure and for reaching the summit.
---
Nick S. - 2/16/2015
No more comments are allowed at this time.