Viewing Post for: Kilimanjaro Climb 2015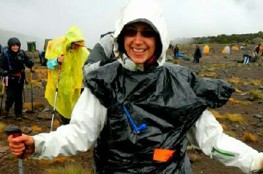 Date: Sunday, February 15th, Summit night
Location: Barafu Camp. 15,000 feet.
3 hours hiking. Light rain and snow all night and today. Clouds. Mountain top in snow.

Warm last night because it was raining. The light rain has us all a little wet and the porters quite wet. Hopefully by tonight the clouds will break. It is a bit soggy now. We are hiding in our tents.

All are feeling well upon arrival here. We will have dinner about 5 Pm. Then try to nap until 10 pm. We start for the summit about 11 pm. We hope to make it in about 7 hours which will put us there at sunrise at 6 pm. We are going to be hiking in the snow as we go up higher.

Everyone is a bit anxious in their own way.

The camp here is on a ridge of rocks, lava boulders. snow is scattered around and the mist and fog comes and goes. Tents and people appear out of the fog and then fade like ghost. Dripping wet porters appear with bags on their heads and are gone. The climb take one slow step and then another among the maze of lava rocks. It is a world apart. Nothing else exists.

We will try to do an audio post from the summit. An update from Base Camp. After we go to summit we come back to 15,000 for a nap for a few hours and then descend to 10,000 by dark. The post will hopefully appear in the morning on Monday your time.

Keep us all in your thoughts.
---
Messages for this post
For: Susie Zafuto
Hi!!! Just woke up from a dead sleep and dreamed of you on TOP of your mountain. It's 4:59 AM here.....was I right?? So vivid - you jumping up and very anxious to start to your descend! I know you're there.....I love you, Friend! You AMAZE me! Michele
---
Michele - 2/16/2015
For: Jeff
Hi, Dad, I hope you were able to get to the top. I am very proud of your single-mindedness in pursuing your passions and dreams. Make sure you descend safely. I look forward to seeing your photos! Love, Matt
---
Matt - 2/15/2015
For: Kris and Benjamin & the rest of the gang
From the backseat (i.e., USA): Are you there yet? Are you there yet? Are you there yet? Are you there yet? Are you there yet? Are you there yet?
---
Rich and Ian - 2/15/2015
For: Ghionul
Go Ghionul!! You rock lady :) We miss you lots and will be sending you big virtual hugs all day tomorrow!
---
Sarah & Ivy - 2/15/2015
For: Susan Homes
Susan, we are thinking of you and wish you the best wishes on your adventure. It is about 85 degrees here. It is a big change from where you are now. I was amused when I heard the make up stories. We love you. Have fun. Love, Candy and Frank
---
Frank and Candy - 2/15/2015
For: Susie
So close now my friend! Stay strong,keep breathing, and know that anything is possible! Can't wait for you to reach the top of your mountain! Love you!
---
Lisa - 2/15/2015
For: Kris
Kris -- your smiling face shows you apparently have enough energy left for the final leg. Go for it! From cold and windy Frederick, Maryland. Toshio
---
Toshio and Chie - 2/15/2015
For: Rick
Looking forward to that all did well and are heading back to WARM--Look like great finish for you old Man!!Hah
---
Daddeo - 2/15/2015
For: Carlos and Tim
As I write this you are resting for your momentous climb tonight. Many positive thoughts going your way as you reach the summit. To quote John Muir " We are now in the mountains and they are in us, kindling enthusiasm and making every nerve quiver, filling every pore and cell of us." Onwards and upwards!!!!! Namaste. Love you guys!!!!
---
Noly - 2/15/2015
For: Tim & Carlos
Time to rock and roll - you two are amazing! Duke misses you Tim (well, we both do!) But having Sue here made him very happy. Good luck, be careful, love to you both!
---
Catie - 2/15/2015
For: Kris and Benjamin
You guys are probably trying to nap now, though I suspect with all the adrenaline you are more awake than I am after just snowblowing the driveway with 0 deg temp and -20 windchill. But the sun is shining so it only feels like -16. Anyway, we'll be keeping an eye on the blog tonight - if you keep to schedule you should be there about 10 tonight our time. Good luck!! Oh, Ian has something to say: "Hi, mom. Hi, Ben." There you go. XOXOXOX
---
Rich and Ian - 2/15/2015
For: Kris and Ben
Onward and upward. Can't express how happy we are for you guys that you were able to experience this. I would love to be there with my Nikon to record everything - what a plethora of photo ops. We'll be sitting by the fire with Rich and Ian enjoying a beef roast and a brew - wine too if Rich remembers
---
Mom and Pop (G and G) - 2/15/2015
For: Susan Holmes
You can do this..you are almost there..be safe..Michael said he will meet you in Aruba!! We had another foot of snow, wind blowing 20 miles an hour and wind chill is -10.. Wishing you all a safe trip to the summit..Jeanne
---
Jeanne - 2/15/2015
For: Susie
Susie big news!!!! Tesla is coming!!! Get your ASS to the summit and i'll treat!!! You're almost there girl.. Last leg of the tour! You can do it... love ya kb
---
Kendra - 2/15/2015
For: rick
Bet you had your "man scarf" now!!
---
lisa - 2/15/2015
For: Rick
Good God Rick. Where are you taking these folks? Your map coordinates have you on you way to Ethiopia!!! Are you combining trips?
---
Lisa - 2/15/2015
For: Susan Holmes
You're almost to the top! How exciting!! We're all following your progress. Hope you and fellow trekkers stay well and enjoy your adventure. Love, Marilyn
---
Marilyn - 2/15/2015
For: Tim
We're cheering for you. Love, Dad
---
Dad - 2/15/2015
For: Sue Z
I thought this post would be from the summit.holy cow this last part sounds tough, but I guess thats the point enjoy it all what a story youll to tell its already a great story preserver love mom and dad xoxo
---
mom and Dad - 2/15/2015
For: Carlos and Tim
You can do it!! Will be thinking about you and sending you lots of positive energy. Can't wait to hear about it and see your pictures. I will be reading about your success tomorrow morning as I wait for my flight back home to our frozen tundra! Austin/seeing Caty and my Mom/Duke has been great!! Onward and Upward for you!!!! Much love, Sue
---
Sue - 2/15/2015
For: Sue Z
Jambo!! There is a good chance that tomorrow will be the most difficult and challenging day of your life, both physically and mentally. It will feel like an eternity...and when it's over it will probably be nothing but a blurr. I wish you and everyone in your gang a successful day. No matter what happens everyone back home is proud of you. If you keep drinking, keep breathing regular and go pole-pole you will make it! Be careful and touch a glacier for me!!!
---
Jack - 2/15/2015
No more comments are allowed at this time.