Viewing Post for: Kilimanjaro Climb 2015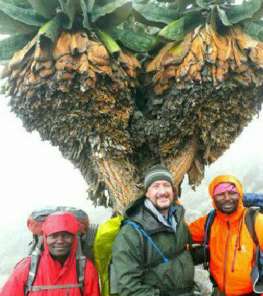 Date: Friday, February 13 - AUDIO POST
Location: Barranco Camp. 13,000 feet.
Here is an audio post from the gang. Download or listen:
---
Messages for this post
For: Susie Z
Susie, So great to hear your voice. You are amazing Sue's, your strength and determination is inspiring. I'm so proud of you bird, YOU GOT THIS!!! I can't wait to hear all about it over coffee. Love ya Happy Valentines Day to all!
---
Rach - 2/14/2015
For: Susie
Susie!! So good to hear your voice!!! Happy to hear you had a great birthday! Keep giving that mountain hell! Looking forward to seeing you when you reach the summit! Sending you lots of love from snowy Buffalo! Miss you friend!
---
Lisa - 2/14/2015
For: Kris and Benjamin
Swimming sectionals update: HF-L finished 2nd to Canandaigua, 428 to 344. Brighton was 3rd at 329. HF-L won 4 individual events. Paul won the 50 freestyle by .08 second in 21.2. Good enough for States. James Baker won the 200 (1:47) and 500 free (4:47). Dave Delaus won 200 medley 2:00.27. HF-L won 400 free relay 3:18. Noah Stevens was Swimmer of the Meet; won 100 breast in 57.7. Scott Lazeroff Sect V record in diving. HF-L won team sportsmanship award. Upward!
---
Rich - 2/14/2015
For: Jeff
Hi Jeff, Have a good trip! We hope you have great time, take pictures for us all to see! Josh & Betsy
---
Josh and Betsy - 2/14/2015
For: Susie Q
SZ!!Happy Valentines Day!! Xoxo KB
---
Kendra - 2/14/2015
For: Susie Zafuto
Happy Valentines day monkey! So good to hear your voice! Hope that mountain is showing you some serious love :-)
---
Maggie Rob & Adelyn - 2/14/2015
For: Kris and Ben
Happy valentines Day - way to top it off. Congrats and another ooorah. A great demonstration of goal setting and achievement. Get used to seeing the glacier - will probably be one here by the time you get back. -5 tonight with another 6 to 12 and 20 to 30 mph winds.
---
Mom and Pop (G and G) - 2/14/2015
For: Kris and Ben
Hi guys. You must be about halfway there, if not more, eh? Hope you're holding up physically and mentally. From the sounds of things, I'm sure you are. All quite here -- the weekend is finally here after a brutally cold week. When will this cold weather end? Probably as soon as you come back. So, come back soon! XOXOXOXOX
---
Rich and Ian - 2/14/2015
For: Zafuto
Zafuto, I never thought Id say this but "I miss you!" It only took you leaving the continent for this to happen. I know all of your hard work is paying off and youre kicking butt! I hope you're having the time of your life and I've been keeping a total of all the squats you owe when you get back. See you soon! Ps. I'm not kidding about you making up all the squats you missed.
---
Your trainer - 2/13/2015
For: Carlos and Tim
Jambo to all. Nail clippers???? Really Tim???? A neat freak in the bush, that is unheard of. Hope you are having a great experience. Keep on trekking. onwards and upwards!!! Namaste.
---
Noly - 2/13/2015
No more comments are allowed at this time.