Viewing Post for: Patagonia & Wine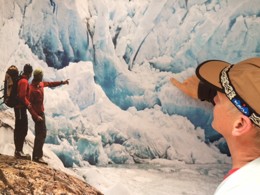 Date: Friday, January 16
Location: El Calafate, Argentina
Rick has gotten to know Patagonia so well that he is guiding the guides! Our last morning in Chile dawned with a stiff breeze and clouds sweeping high over snowy peaks. We drove down to the coast through pastoral scenery of yellow-flowered fields specked with grazing sheep and beret-topped gauchos silhouetted against the racing clouds.

We made a brief stop in Puerto Natales to pick up gifts and check out the rough-hewn fishermen's dwellings, mirrored by their creaking wooden boats floating off shore. Then on through the border crossing and out to the vast scrub flats that separate the spectacular mountain ranges of Chilean and Argentinian Patagonia. After a few hours in the vans, we arrived in El Calafate where we will take a short breather, bounce around this funky tourist town and then head for Buenos Aires and the flight home.

Muchas gracias, Patagonia! We are overjoyed to have visited this incredible place... and looking forward to the next adventure! Stay tuned, we're off to Kilimanjaro on February 09, 2015!
---
Messages for this post
For: everyone
It's been so much fun following your adventure!!! Now have a safe trip home everyone......Hugs to all.
---
peg jacobs - 1/16/2015
No more comments are allowed at this time.