Viewing Post for: Patagonia & Wine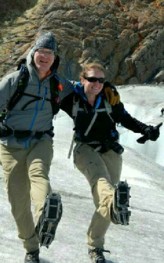 Date: Saturday, January 10, 2015
Location: Viedma Glacier, El Chalten, Argentina
Holy glaciation!! We have just had an incredible tour on the extraordinary icescape of Viedma Glacier. We started out scrambling over volcanic rock carved in swoops and whorls of fiery colors. After peering down into a crevasse between rock and ice, we crossed the gulf to strap on crampons and prepare for our glacier walk on a gorgeously sunny day.Tour guide Federico and his agile companions helped us get our gear on, learn to walk and then lead us into the otherworldly scenery.

Surrounded by immense rocky mountains on one side and a sea green lake on the other, the Viedma Glacier is roughly the size of Delaware. The massive river of ice have scraped, carved and dragged huge chunks of rock across the volcanic bedrock to create some of Patagonia's most dramatic views. As we crunched awkwardly across the curves and spines of gray, white and aquamarine ice like a long line of clumsy ducklings, we could barely keep our jaws hinged on. Deep blue ice caves yawned in narrow ravines and speckled granite boulders torn from peaks miles away were spattered on the expanse of ever-changing ice. Occasionally, the deep boom and roar of a calving iceberg reached our ears.

We can't wait to enjoy more of this fantastic, utterly unique landscape. Next up, we'll be headed up toward the impressive granite spire of Cerro Torre for some more spectacular adventure!
---
Messages for this post
Currently there aren't any messages for this post.
No more comments are allowed at this time.