Viewing Post for: Patagonia & Wine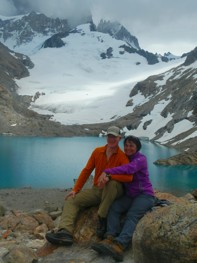 Date: Friday January 8
Location: Mt Fitzroy, El Chalten
Wow! Today is probably one of the top 10 day hikes in the world. Hard to describe all the parts. You start by walking in hobbit like forest. A gigantic cascading glacier appears across the valley. After 3 hours you begin an hour and 1/2 climb. As you rise the toward the towering spires and glaciers behind the gigantic blue lake appears I. The distance. You crest a rise and below is the deepest blue black little lake.

8 hours of hiking. A lovely ranch at the end the drink coffee and beer.
---
Messages for this post
For: Greg and Barbara
The pictures each day are phenominal. This is a nice picture of you both and it looks like you are enjoying this expedition. Looking forward to more pictures when you are home. In Peace, Mollie
---
Mollie - 1/10/2015
No more comments are allowed at this time.