Viewing Post for: Patagonia & Wine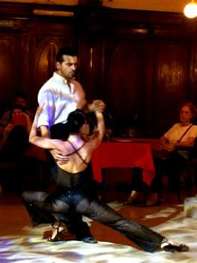 Date: January 4, 2014 Sunday
Location: Buenos Aires, Argentina
To kick off our Patagonia tour, we started out with a beautiful tango show in a historic mansion in Buenos Aires! Talented dancers, live music and some fine wine were a great way for our crew to enjoy their first evening in Argentina.

We were surprised when our taxi drivers told us some roads in the city center were closed. Not for construction - the Dakar Challenge, a 10,000 km road rally was in Buenos Aires showing off their wildly colored off-road motorcycles, cars and trucks before they head to Bolivia. We joined the crowds lining the wide boulevards to snap photos and wave to the drivers.

Now that everyone has had an initial taste of this cultural center, we are heading for the famed vineyards of Mendoza. We'll be rolling through on a bike tour of Argentina's wine country before we head further south to the sheer peaks of Patagonia. Keep checking in for shots of the stunning views... more adventure to come soon!
---
Messages for this post
For: Greg and Barbara
We need pictures of the Tango!!!!!!!!!!!
---
Jim - 1/5/2015
No more comments are allowed at this time.