Viewing Post for: Patagonia & Wine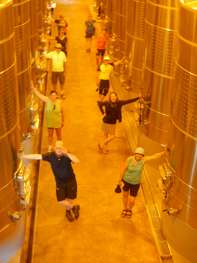 Date: Tuesday, January 06, 2015
Location: Mendoza, Argentina
We are in wine country! After two beautiful days in Buenos Aires, our crew loaded up on a comfy overnight bus to cruise through miles and miles of moonlit pampas. Argentina's plains seemed endless, but as the sun came up, we spied the lofty peaks of the Andes looming through the dawn haze.

In Mendoza, we made a stop at the Terrazas de los Andes winery to check out their immense fermenting vats and get a first taste of Malbec and Torrontes wines. Soon, we were mounted on bicycles and spinning along gentle paths bordering lush vineyards. The snowy peak of Tupungato Volcano and the high shoulders of the Andes set a magical backdrop to the verdant spread of grapes ripening in the sun.

The ride took us to the Belasco de Baquedano winery where everyone reveled in a spectacular five course meal, each course paired with a wine. From their pale Rose of Argentina to a deep red Malbec, the group savored every sip and bite of the beautifully presented meal. We ended the flavor spree with a visit to the 'aroma room' where we browsed through more than fifty scents found in wines, and then blissfully headed off for a siesta.
---
Messages for this post
Currently there aren't any messages for this post.
No more comments are allowed at this time.