Viewing Post for: Everest Base Camp 2014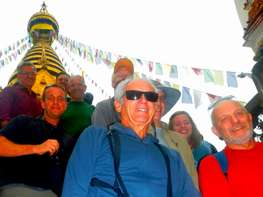 Date: Monday, October 13, 3:30 PM
Location: Katmandu!
Yes, we are all here and life is good. Rain started today but did not dampen our spirits as we explored the temples and ancient winding alleys of Katmandu.

Collecting all from the airport started off exciting as quickly a local managed to extract a $40 tip from the group for helping with a bag. Once we realized what had transpired some of us jumped from the van to track him down and retrieve the ill gotten money. $40 here is 4 days in wages for the local staff so they were angry at what they considered robbery. A cart or two was wrestled back from a too helpful attendant and we were in Nepal.

Today, we tried local Nepali food and as you can see from the picture went to Swyambu or the monkey temple. Tonight we go out for local raski (rice wine), local dancing and food. All in prep for our trek.

Please blog on here. If you have questions we will try to answer. We only have limited access to wifi via satellite phone once we leave town and only limited time as our main job is to hike but will try to post each day and respond to your comments.
---
Messages for this post
For: Garth and Sarah
Loving hearing what you are up to! Glad to see you both in the picture! Will look forward to your pictures in December! Love, Brenda and Ron
---
Brenda and Ron in Toronto, Canada - 10/15/2014
For: Carlos & Nick
So happy you are enjoying your trip. Namaste!!!
---
Noly - 10/15/2014
For: kevin
Kevin glad to see you landed save. Enjoy the journey.
---
carl - 10/14/2014
For: Garth and Sarah
Pictures are great.! Glad you made it safely. Enjoy your trip.
---
Mom(Linda) and Dad(Rob) - 10/14/2014
For: Paul
Hi Paul! Glad to hear you arrived! Nice picture :) we will be following you!
---
Lori - 10/14/2014
For: Paul & Rick
Glad to hear from you folks. You know I wish I was there with you! Have a safe & fun trek. Can't wait to hear the stories and see the photos. PAUL: Since I am not there, you will need to share your chapstick with Rick. HUGS & KISSES - Troy
---
Troy - Kili 13' - 10/14/2014
For: Kevin
Love you Dad!
---
Kelly - 10/14/2014
For: Garth/Bugeye
Rain? you found your daily shower! Beats jumping in Lake Superior's frigid waters. Dan & YoDrew
---
Dan - 10/14/2014
For: Kevin/Dad
hey Dad! glad you guys made it safely! have a great time!! Love Cathy
---
Cathy - 10/14/2014
No more comments are allowed at this time.