Viewing Post for: The Way: A Pilgrimage Across Spain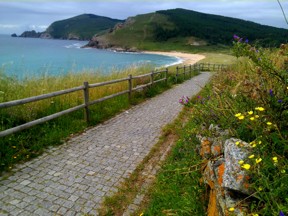 Date: June 26, Thursday
Location: Finisterre, Spain. 500 miles from where I started.
I crested the hill to a remote beach and in front of me was a leaping, diving line of dolphins. It was if they had purposely waited for me. It was how I felt missed with the sadness and disbelief that comes at journeys end. This was a very personal journey. If you would like to hear more I have been humbled and honored to give the Homilies at Spiritus Christi Church the weekend of August 16 and 17.

Our next blogging be from the Himalayas of Bhutan and Everest Base Camp in October.

Rick
---
Messages for this post
Currently there aren't any messages for this post.
No more comments are allowed at this time.