Viewing Post for: The Way: A Pilgrimage Across Spain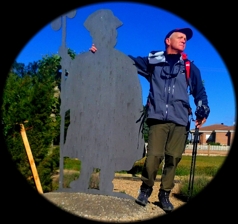 Date: May 23, 2014
Location: Carrion del los condes
The waving, flowing, wheat fields, with the quickly flying low fluffy clouds combine with the soothing repetition of the flowing of the steps. The stream of pilgrims disappearing in front and behind, like the strong, cold wind blowing them into the distance. A warm, calm inside. Just enough work comes in on the internet, a coup in Thailand, increase in visa fees in Bhutan, to remind me of the outer world. I need the practice to feel this static that covers our hearts and souls most of the time. Can I respond to the outer world ad remember to come from the inner world as I do?

Other blogs of Peregrinos with me:

http://adventuresofadelicateflower.com/

Friend Karen Wozniak (rochester ny. Or paychex)on facebook,
---
Messages for this post
For: Peligrinos
Karen.wordpress.com
---
Caminokaren - 5/28/2014
No more comments are allowed at this time.