Viewing Post for: Turkey: Mt. Ararat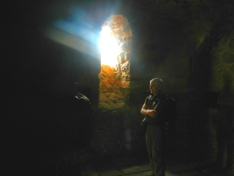 Date: September 19, Thursday
Location: Van, Turkey
Photo is of David in 900 A.D. church on an island pondering the end of our adventure. And there is much to ponder.

Our guide, Gorkem, leaves us in the morning when we fly back to Istanbul. The circle starts to close and weave into other circles. This is our last post. We hope to see as many as possible at the Journeys of Solutions Event on the 19 of October and at the reunion on the 26th of October. Details on the PPS website. Thank you for following us, supporting your loved ones and joining us. Your family and friends have much to share. I am you also have much to share about what has happened in your life over the last two weeks. Hopefully you can set aside time to listen to each other. Make some day or tea as it is called, open your minds and hearts. Hopefully it can help bring our world a little closer.
---
Messages for this post
For: Everyone
I have looked forward to coming home each day to read your updates and adventure! I am sure this was a huge test and I give you all credit for what you have done. Can't wait to hear about it!
---
Terri - 9/19/2013
For: Rick & Chris
Rick - Thank you so much for the daily updates and sharing a small portion of the journey with all of us at home, it has meant a lot. Chris, Paul & whoever else is extending your time in Istanbul, enjoy! Safe travels to all!
---
Deb - 9/19/2013
For: John
I am waiting with baited breath to hear more details of your adventure. Hope you can make it to an internet cafe in Istanbul but if not, I will see you at the airport Monday night. Sorry you are not flying home with the others so that I could be there to cheer for all of you and meet some of your colleagues. I imagine this has been an incredibly bonding experience! Thanks to Rick for his lifeline of news, and SAFE TRAVELS TO EVERYONE! Love, Pris
---
Priscilla - 9/19/2013
For: RICK
Thank you for keeping me connected in some way to Gary and sharing the journey with me.It sounds like an amazing time.I will see you soon Gary..
---
MYRA) - 9/19/2013
No more comments are allowed at this time.