Viewing Post for: Turkey: Mt. Ararat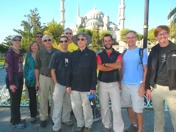 Date: September 8, Sunday
Location: Sea Level, Istanbul, Turkey
JFK airport almost kept us. At each turn, no sign, the train did not work, where is Turkish Airlines? But we managed.

Great morning arriving at 5:30 am in Turkey. Needed sleep badly but had to wait until the rooms were ready at noon. So we went exploring the old city.. Turkish delicate. Lots of huge ancient mosques. Ancient walled city forms the back wall of the hotel. A huge mix of people from all over. Lots of Muslems in head scarfs, Arabs in Merecedes, Europeans with many languages. Kebabs, Pride, (Turkish pizza), giant lamb kebabs and people drinking tea in small glasses among the rug shops, belly dancing clothing shops...it feels like Turkey.
---
Messages for this post
For: Uncle Paul
Hey uncle paul! I hope your having fun, this picture is so cool! I also listened to the audio from today and it sounds beautiful there. Be careful! Love Ashley and Troy
---
Ashley and Troy - 9/11/2013
For: Gaylinn
Thinking of you! I am sure you are having an amazing adventure. Wish I was there. Be safe (I had to say that :-) Love you. Margaret
---
Margaret - 9/11/2013
For: GRANDPA SHOELESS
HI GRANDPA, WE CAN'T WAIT TO HEAR ALL YOUR STORIES!! BE SAFE AND HAVE FUN TOO. WE BOTH WON OUR FOOTBALL GAME YESTERDAY AGAINST YORK, (NOAH'S TEAM DOUBLE OVERTIME). SEE YOU SOON:)
---
NOAH AND LUKE - 9/9/2013
For: Gary
HAVE A GREAT TIME Everything is good here .miss you and wish I was there.See you soon and love you.
---
Myra - 9/9/2013
For: Chris and Rick
yahoooooo.....glad you guys are having a good time...Chris, Not sure how you manage to go more places than I do but am happy for you!!!! Have a good trip!
---
steveo - 9/8/2013
For: Rick)
Wish i was there have fun be safe.
---
Dad - 9/8/2013
For: chirs mcmanus and rick french
Let me guess...you are all going to come home belly dancers?
---
terri - 9/8/2013
For: David Guaspari
Hi, Dave - Saw the post that you're on the ground in Turkey. Good show! Have a great time. (Return trip tip: You might want to lay over in NYC through Tuesday the 24th; it's Mariano Rivera Bobblehead Night at Yankee Stadium that evening.)
---
Joe B. - 9/8/2013
No more comments are allowed at this time.