Viewing Post for: Inca Trail II 2013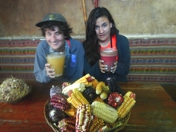 Date: July 29, Monday
Location: Urubamba, Maras, salt mines and area
Okay, so we saw ancient mysteries of Inca sites, picnic beneath spectacular glaciated mountains, walked by ancient terraced salt mine but the big event of the day was the bar.

We stopped at local bar where they make chicha, the local brew. We carefully sampled this ancient drink. And then engaged in a game of sapos or toads with the locals. If we drank more chicha we might have fared better in this old board game. But we needed to depart to prepare for the Inca trail.
---
Messages for this post
For: Kenzie
Wow Kenz you look super excited in that picture! Hope my positive thinking has also not gone to waste...;) wink wink. Not much is happening around here... Kate named the baby George (not the best but better than Albert) and I had to sit through the Bachlorette (2hrs!!!) last night with Erin only to find out she picks no one. Really. Anyway I hope your having an amazing time and we all miss you tons :)
---
Ginny - 7/30/2013
For: Taylor
That chicha looks delicious!
---
Kory - 7/29/2013
No more comments are allowed at this time.