Viewing Post for: 2013 Kilimanjaro Cancer Climb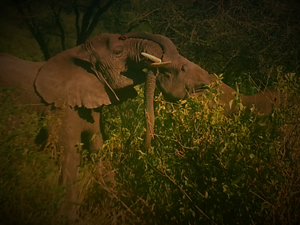 Date: February 21, 2013 85 degrees
Location: Karatu and Ngorongoro Crater
And we thought we saw a lot of animals yesterday. You have to see this crater to believe all the animals. Lions, rhino....

Back in Karatu Rick attended a well dedication at the local school we support. Long story but the grief of a parents passing was turned into support for a well for 550 students and the local people in a drought laden, no water area. The family bridged so much to join both side of the ocean. Extremely moving. Incredible story of turning sadness into such joy for so many.

This is our last post. Thank you fro following us. Our next live updates are mid July from the Inca trail in South America
---
Messages for this post
For: ALL
Hey All, Eric & I got into ROC ok yesterday. Glad to hear you are seeing tons of cool animals. I'm chilling on my couch at the moment trying to process the last few weeks. Keep on taking it all in. See you soon!
---
Troy Cusson - 2/22/2013
For: Rick
The Well dedication sounds amazing! I so wish we could have been there. I'm so happy for Elizabeth and Tumaini! Please tell everyone there we said hi and I think about them often. Have a safe trip home!
---
Sadie - 2/21/2013
No more comments are allowed at this time.