Viewing Post for: 2013 Kilimanjaro Cancer Climb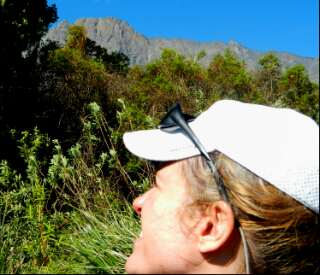 Date: February 8, 2 pm
Location: Saddle Hut on Mt Meru, 11,700 feet. Partly cloudy, 60 degrees
Unrelenting uphill with unrelenting spectacular views. Still sign of water buffalo but we did not yet need to shoot one. Passed one lovely chameleons. Great hut with views toward Kili. White necked ravens very aggressive. Hikers not aggressive so far. Starting to feel a little altitude. Some pondering climbing Little Meru, 13,700 this afternoon if we cant get a volley ball game going. Tonight is summit night. We get up after midnight and climb to dawn over the daunting knife edge. Wish us luck. Top is 15,000 feet.
---
Messages for this post
For: Danielle
This picture has to be you--looking good so far.
---
Ann - 2/9/2013
For: Troy
Keep on trucking uphill! All that training is paying off. We are following you all the way to the top. Richard
---
Duffy Books - 2/9/2013
For: Troy
Happy Anniversary! Hope you are having a wonderful time, sounds like you are seeing some incredible sights. Hope the summit climb went well. I love you.
---
Sandi - 2/9/2013
For: The Gardin Crew
Hello Garsins and PPSers! We are covered in white gold here in Rochester and due for some great XC skiing this weekend. Hope your summit attempt was a success. Looking forward to future updates! Best, Seann, Kate, Tessa, and Keelyn
---
Clan McArdle - 2/9/2013
For: Jim
Hope your climb goes well. Lots of snow coming down tonight but nothing like in New England. Good luck.
---
The gang - 2/8/2013
For: Eric, Danielle and Paul
It's a blizzard in Rochester! We are enjoying a few beers in your honor. The trip sounds amazing so far!!!! Keep trekking!
---
Steph and Jeff - 2/8/2013
For: Christoher Lilly
Following you on the Kindle.Remember pictures.Have fun, be safe.Keep looking up. Love you.
---
Mom and Dad 2/8/2013 - 2/8/2013
For: Eric
Your business is falling apart! I'm kidding, all is well. Enjoy your climb. It is wonderful having some down time here :) Watch out for those water buffalo!
---
Sara - 2/8/2013
For: Eric, Paul, and Danielle
Hi everyone! Kathy just sent us this link. So thrilled to be able to keep up with your awesome trip. It must be exhilarating and amazing. Be safe!
---
Cheryl Ferris - 2/8/2013
No more comments are allowed at this time.