Viewing Post for: 2013 Kilimanjaro Cancer Climb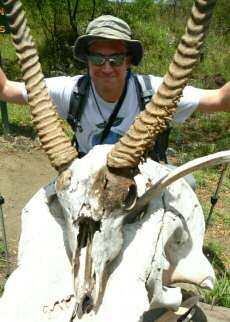 Date: February 7th, 6:30 pm.
Location: Miriakamba hut on Mt Meru - 8 miles hiked. 8,100 feet
Welcome! Please free to write comments and we will get them on the mountain. We are all doing great. Got to the trailhead and started hiking about noon until dark. Incredibly beautiful forest. We have a guard with a gun because we are hiking in an area where there might be elephants and buffalo. Dangerous. Saw some giraffe and baboons and monkeys hiking up through a misty, heavily mossed forest. Our flights over through Ethiopia went great.

Hope you enjoy our posts. We will try each day but they are a bit erratic based on what we are doing on the mountain.
---
Messages for this post
For: Torey& MarrianneTo? (maximum 255 chars)
You guys are doing fantastic have a great time .Loadsof Love Mom & Dad H.IType your message here...
---
Mom&Dad H.YouFrom? (maximum 255 chars) - 2/15/2013
For: Torey (maximum 255 chars)
Go Torey, Go!!!!!!!
---
Sandy Jensen - 2/14/2013
For: Paul,Danielle, and Eric
It sounds like your adventure is off to a good start. We will be keeping track of your progress. Hope the heel is holding out. Cheers
---
Jim, Bruce and Scott - 2/10/2013
For: Marianne
Hey Sister! Mountain Woman! Your puppy dogs are SO nice! , Any dogs that love winter as much as this old dog, are OK by me! owww! BTW, Nightly howling to the mountain Goddess is recommended.. Be careful what you ask for!! HaHa! She's waiting for you!
---
Bruce - 2/9/2013
For: Rick
Happy birthday day brother! We have over 2 feet of snow here in Maine so far...I LOVE it! I am going to put on my Kili gear (including goggles I never got to use) and go out and play with the nice Mr Blizzard!
---
Bruce - 2/9/2013
For: LILLY
Great to hear your voice and see pics, ...wow...Sounds like you're having a great time! Remember..no superman stunts! Stay safe...luv from us.
---
AUNT SUE AND UNCLE DAVE - 2/8/2013
For: Lilly :)
Excited for you to be in Africa! We will be waiting to see the interesting updates and photos. HAVE FUN!!
---
The Pernicones - 2/8/2013
For: Chris
So happy to see the updates starting! We are all craving news from Africa! Big winter storm coming in today, we are supposed to get 6-8", New England 2' or more. It is 9 am and no snow flying yet. Good news! Sage got a 93 on his AP Global History mid -term. He is quite smug. Hope you are seeeing lots of animals, amazing scenery, can't wait to see your pictures and hear about the adventure. Love you! Jen and Sage
---
Jen and Sage - 2/8/2013
For: Troy
Sounds like you are having a great time. I love you and hope you are taking lots of pictures!
---
Sandi - 2/8/2013
For: Jim Nelson
Love the picture. Glad all is well and that you are seeing some amazing wildlife. We are jealous
---
The gang - 2/8/2013
For: Eric)
Glad to hear all is well. We had fun with the boys yesterday, and enjoyed having Madeleine spend the night. XOX
---
Bob and Kathy - 2/7/2013
For: Paul and Danielle
And a hello to you guys too!!! Love you all!!
---
Lori and the kiddos - 2/7/2013
For: ERIC
Sounds like a fun day! Lots to see huh? The gang misses you!
---
JLS and bonus Jessie - 2/7/2013
For: LILLY
glad to here everyone arrived safely.hope you have a blast,no riding the buffalo. pictures pictures! Im sure you have everyone laughing. be safe
---
TROJNOR - 2/7/2013
No more comments are allowed at this time.