Viewing Post for: Galapagos 2010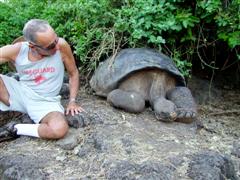 Date: 4/8/2010
Location: Santa Cruz
Today was our last full day on the Galapagos archipelago. We spent the morning waking to the beautiful black sand beach on Floreana and took the boat to see more other worldly bird species and had our final snorkel session. This afternoon we visited the Charles Darwin Research Center to get a close up glimpse of the famous Galapagos tortoise, Lonesome George, the last of his kind. Tonight we will go to bed sun kissed and ready to tell our tales of this magical place. Thanks for following our trip!!
---
Messages for this post
For: Rick
Looking forward to the pics and stories!
---
Bryan - 1/19/2011
For: Hi Rick and Galapagos
Hi Rick and Galapagos gang! Looks like you are having fun and seeing lots of cool wildlife. Hi Ron!! Hope you are having fun!! xoxo Deb
---
dance - 4/8/2010
For: Good morning!
I hope maybe we can see a picture of the whole group before you leave! Mary Lou I hope you have had a fabulous time! Take care and see you soon. Love-Steph
---
StephCoriale - 4/2/2010
No more comments are allowed at this time.